Bison in Red Wine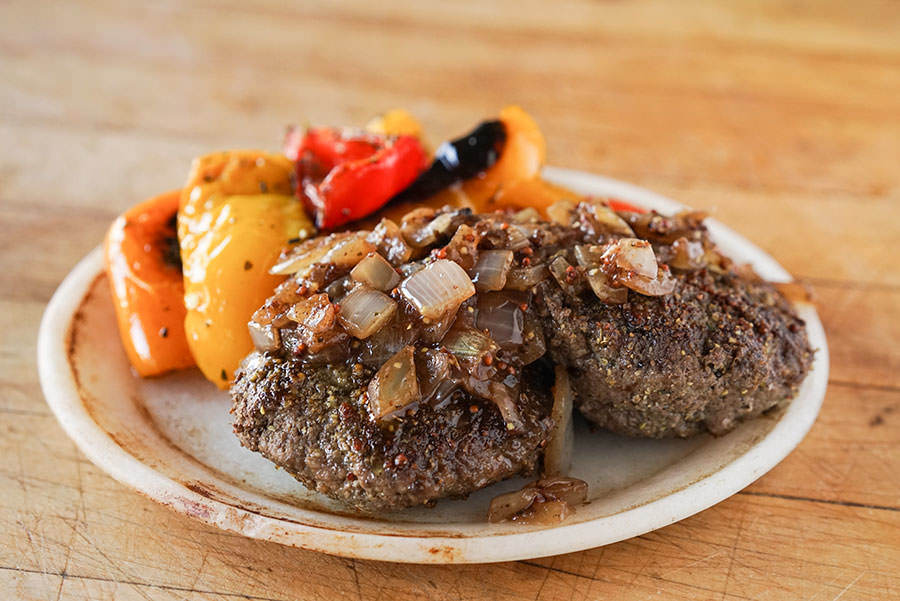 If you don't have any red wine on hand, just deglaze the pan with water instead. You can also use ketchup instead of mustard.
Ingredients
12 oz ground bison or beef
4 tsp salt
1 Tbsp black pepper, cracked
1 Tbsp dried onion, ground
1 tsp coriander seed, ground
4 Tbsp coconut oil
2 onions, chopped
1 glass red wine
1 Tbsp tarragon
2 Tbsp Dijon mustard
1 splash olive oil
Method
1

Press the meat into two patties with your hands.

2

Mix salt, pepper, dried onion and coriander together. Sprinkle on both sides of the patties. Let rest 10 minutes, the time it takes to prepare the other ingredients.

3

Heat a pan on medium. Add half the coconut oil and place the patties in the pan. Cook 3 minutes on each side.

4

Place patties on a plate. Put onions in the pan with remaining oil. Cook, stirring regularly, until onions are golden. Pour wine into the pan and deglaze by scraping the bottom with a spoon. Add tarragon and cook 1 minute. Remove from heat and incorporate Dijon mustard. Pour onto the patties.