Stewed Cajun Vegetables and Black-eyed Peas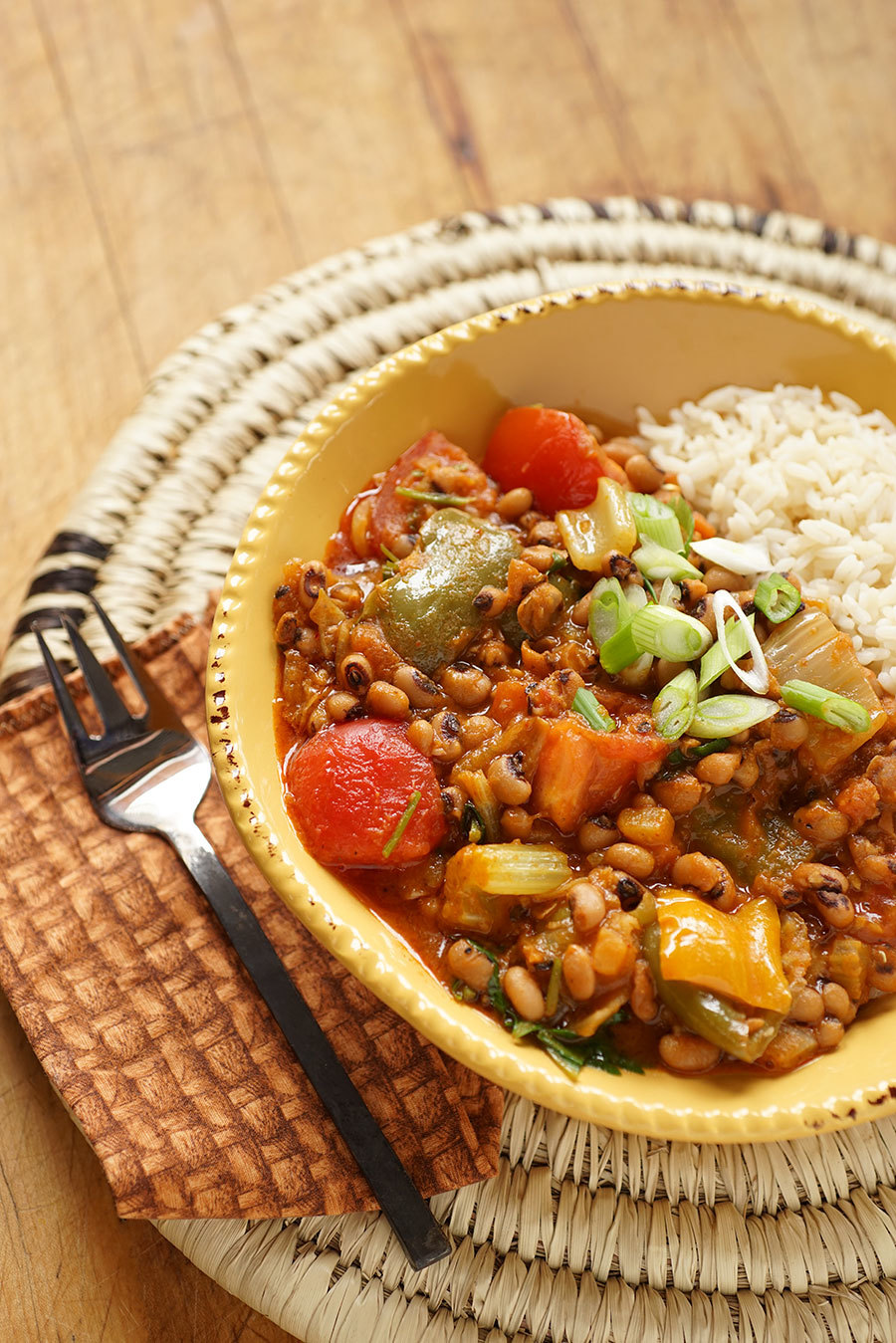 This is a vegetarian version of a classic Cajun dish in which smoked paprika adds a traditional smoked meat flavour. It's not necessary to sauté the vegetable garnishes before adding them to the stew however, it would be tastier. If using cooked peas, you'll need 5 cups.
Ingredients
1½ cups dry black eyed peas
1 onion
1 carrot
1 celery branch
¼ cup olive oil
4 Tbsp tomato paste  
4 garlic cloves, chopped 
3 Tbsp Cajun spices, ground  
1½ Tbsp smoked paprika   
Salt and pepper to taste 
Vegetable garnishes
3 medium onions
4 celery branches
2 green Bell peppers
1 yellow Bell pepper
¼ cup olive oil  
2 medium tomatoes 
4 garlic cloves, chopped  
½ bunch parsley
4 green shallots
Method
1

Rinse and soak peas in water overnight, refrigerated. The following day drain then place in a pot with 6 cups water and bay leaves. Bring to a boil, lower heat to medium and cook 45 minutes until tender.


2

Dice onion, celery and carrot.


3

Place in a pan on medium heat with ¼ cup olive oil. Sauté on medium/high for a few minutes to colour slightly, then add tomato paste, garlic, Cajun spices and smoked paprika. Sauté 2-3 minutes more, stirring continuously.


4

Drain peas, set aside their cooking water.


5

Add peas in the pan and enough cooking water to cover. Simmer for 45 minutes (up to this point everything can be done in advance).


6

Clean and cut onions, celery and Bell peppers into 1-inch pieces. Place in a pan with ¼ cup olive oil then sauté lightly for a few minutes until vegetables are tender.

7

Cut tomatoes into large cubes then add, along with chopped garlic, to vegetables.  Salt and pepper to taste. Sauté a few more minutes then add to the stew. Simmer on low heat for 30 minutes. Chop parsley and incorporate into stew.

8

Serve garnished with slivered green onions.