Stir-fried curried vegetables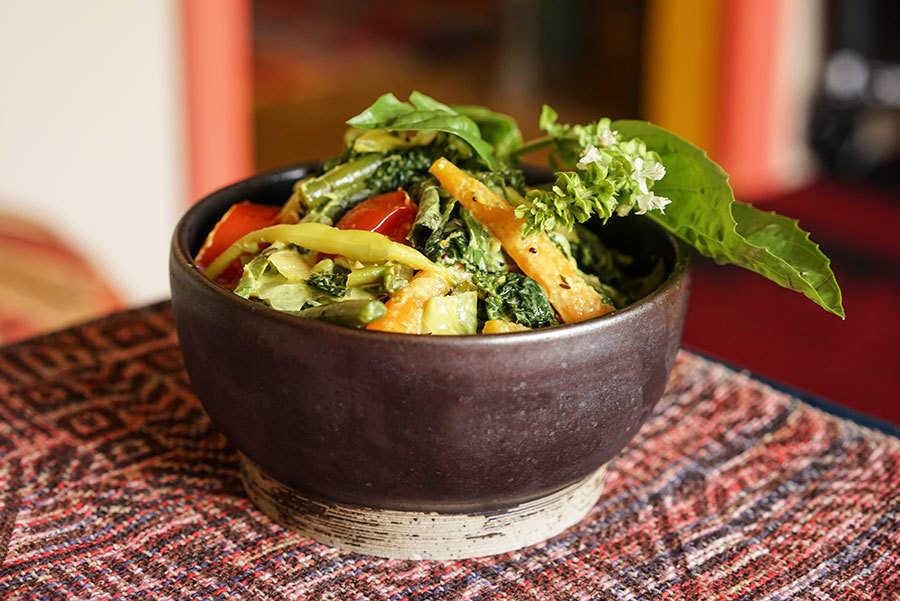 The beauty of curry blends is that they're really all-purpose blends, and one can easily substitute the other depending on your taste. Use Mauritian Masalé or choose another curry if you want!
Ingredients
¼ small cabbage
1 cup green beans
4 medium carrots
1 red pepper
1 bunch spinach
4 Tbsp coconut oil
1 tsp mustard seed (opt.)
½ tsp cumin
10 curry leaves, rehydrated
4 shallots, sliced
2 cloves garlic, chopped
1 Tbsp ginger, chopped
2 Tbsp Mauritian Masalé
Salt and pepper to taste
4 Tbsp creamed coconut
1 cup coconut milk
4 Tbsp coconut oil
1 Tbsp fish sauce
3 Tbsp cilantro or basil, chopped
Method
1

Chop cabbage into 1-inch squares.

2

Stem green beans and slice into 2-inch sections.

3

Peel carrot and slice diagonally into ½-inch strips.

4

Halve then julienne pepper. Wash spinach well, then drain it and chop leaves into large pieces.

5

Heat a cast-iron pan or wok on medium. Pour the oil when the pan is hot. Add mustard seeds and fry for 10 seconds until they begin to change color. Add cumin and curry leaves, then, after 5 seconds, incorporate shallots, garlic, ginger and ground Masalé. Stir well and stir-fry for 1½ minutes, until they begin to change color.  

6

Add remaining chopped vegetables except for the spinach. Salt and pepper, then cook 2 minutes more, stirring occasionally. Incorporate creamed coconut and coconut milk. Boil for 2 minutes, then incorporate the chopped spinach. Cook for 1 minute more.

7

Incorporate fish sauce and pour onto a large plate immediately to stop the cooking. Garnish with cilantro and serve.