Stir-fried Noodles with Pork and Vegetables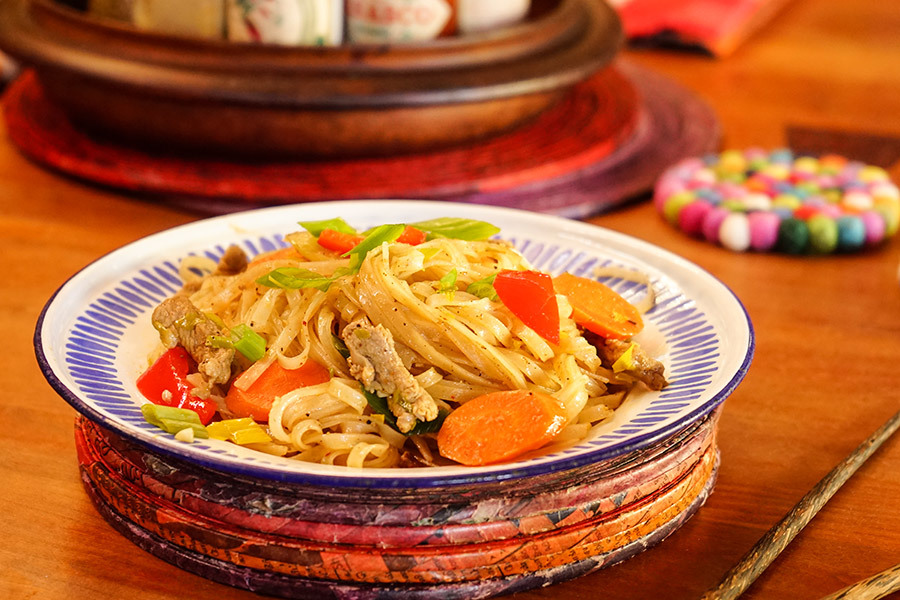 This dish is a real time saver- especially if you use dry rice noodles that just need to be soaked. Just use whatever vegetables are in the refrigerator, add a bit of meat, some noodles, and start setting the table! In the time that it takes to soak the noodles, the other ingredients can be prepped. 
Ingredients
1 lb rice noodles
1 lb pork shoulder
3 garlic cloves, chopped
1½ Tbsp Red curry, ground
2 Tbsp rice vinegar
4 cups vegetables of your choice
2 Tbsp fish sauce 
2 Tbsp light soya sauce
2 Tbsp oyster sauce
1 Tbsp sugar
1 tsp black pepper
1/3 cup vegetable oil
1 bunch green onions, sliced
Method
1

Soak the rice noodles in a bowl of warm water to rehydrate them (20 minutes). Drain and set aside. 

2

Cut the pork in thin strips. Marinate with garlic, red curry and vinegar. Set aside. 

3

Cut the vegetables into small, even pieces. Set aside. 

4

Mix the sauces, sugar and black pepper in a small bowl and set aside. 

5

Heat a wok, then pour in the oil. Sauté the pork until in whitens (1 minute). 

6

Sauté the vegetables adding them one at a time, beginning with those that require a longer cooking time. 

7

Add the drained noodles when the vegetables are almost cooked, continue to mix well. 

8

As soon as the noodles soften, add the sauce. Mix well. 

9

Add the sliced green onions. Sauté for another 15 seconds and serve.