Stir-fried Sesame Potatoes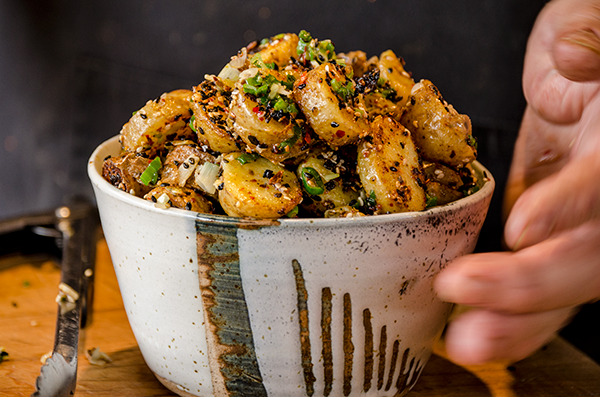 Stir-fried potatoes are a popular street food in Yunnan. This is our version - the vendor did not want to share her recipe, which was very comforting one cold and rainy night when the high altitude had gotten the better of us.
Ingredients
4 cups potatoes, cooked and cooled
4 Tbsp black or white sesame seeds
1 Tbsp Yunnan Spices, ground
4 Tbsp peanut oil
4 scallions, chopped
Stream of roasted sesame oil
Method
1

Slice the potatoes and place them in a bowl with the sesame seeds and spices. Mix delicately making sure that the sesame sticks to the potatoes.

2

Heat a wok on medium heat. Pour ¾ of the oil around the edge of the wok and add the potatoes.

3

Even out the slices equally at the bottom and side of the wok and cook until they begin to brown (3-4 minutes). Turn them over and to cook for a few minutes more. Remove the potatoes once the sesame seeds begin to brown.

4

Add the remaining oil, the scallions and garlic and cook for 15 seconds. Return the potatoes to the wok, sprinkle with sesame oil and mix well so as to infuse the potatoes. Serve immediately with a small dish of ground Yunnan Spices as an accompaniment.