Stir-fried shrimp with green beans and tomatoes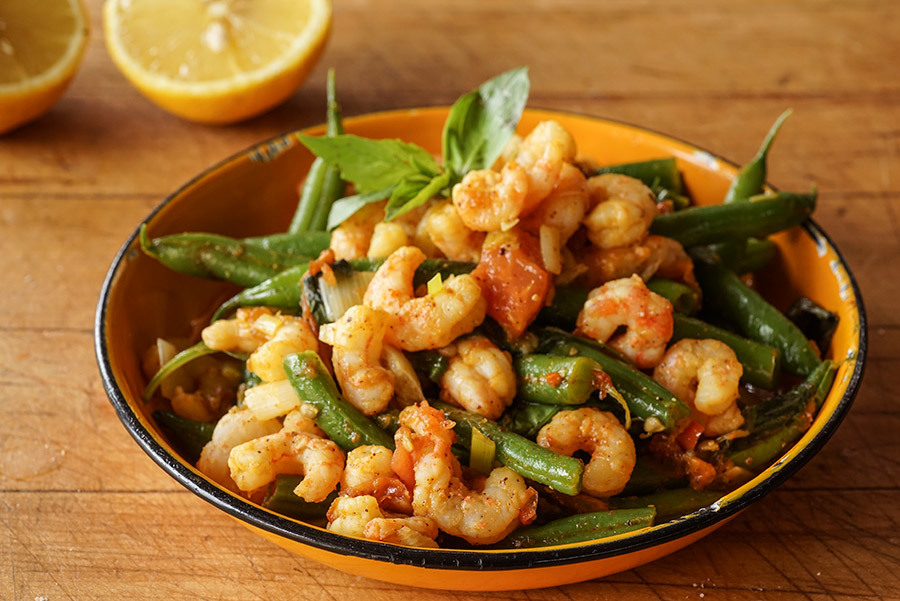 We don't often think of adding lemon or herbs like basil or parsley to dish with Indian spices, but it's actually a great combination, particularly with fish and seafood dishes like this one.
Ingredients
1 lb shrimp, peeled
---
2 Tbsp lemon juice
---
2 tsp black pepper, cracked
---
2 cups green beans
---
3 Tbsp olive oil
---
1 bay leaf
---
½ tsp lemon zest, grated
---
2 garlic cloves, chopped
---
2 green shallots, chopped
---
2 tsp Dhaba Masala, ground
---
1 cup very ripe tomatoes, finely chopped
---
2 tsp honey or sugar
---
Salt, to taste
---
Parsley or basil, chopped
Method
1

Rinse and pat dry the shrimp with a paper towel. Marinate them with the lemon juice and the cracked pepper. Set aside.

2

Clean and cook the green beans in salted, boiling water until they are crunchy (5 minutes) and set aside.

3

Heat a large pan or a wok on high heat. Pour in the oil, and the bay leaf. Pan-fry for a few seconds. Add the lemon zest, garlic, shallots and ground dhaba masala and fry for a few seconds.

4

Add the marinated shrimp and stir-fry for 1 minute.

5

Add the tomatoes, honey and salt. Mix well and then add the green beans.

6

Cover and cook for 2 more minutes. Garnish with chopped parsley and serve.