Strawberry Cobbler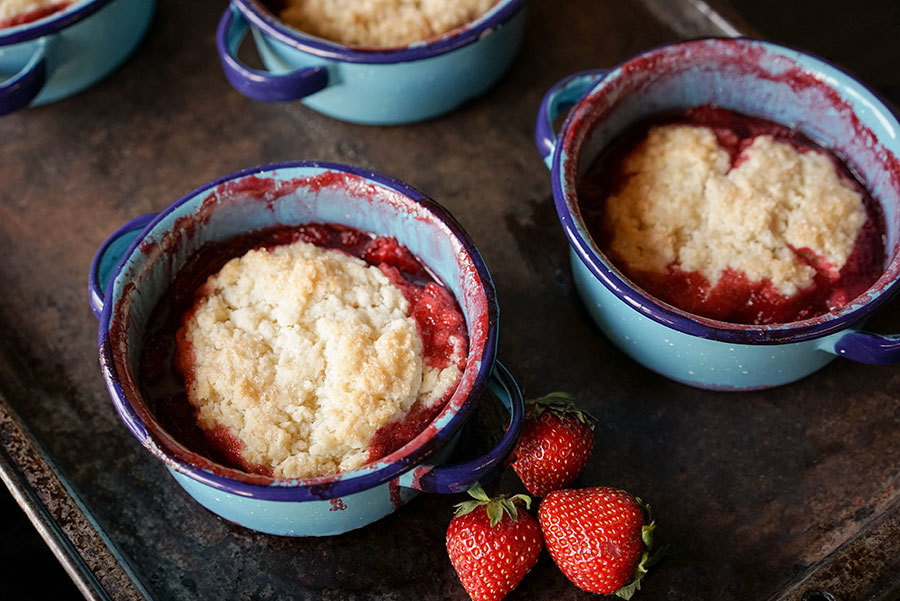 A Cobbler is probably one of the easiest recipes that allows us take advantage of fresh summer berries (even for later in the year, for those who had the good sense to freeze them). Feel free to replace the strawberries with other fruits or even a combination of different varieties.  
Strawberry garnish
4 cups de-stemmed strawberries, cut in two
½ cup sugar 
Generous pinch of salt
Lemon zest  
1 tsp lemon juice, freshly squeezed
1 Tbsp cornstarch 
Crust
1½ cup all-purpose flour
¼ cup sugar
1 tsp baking powder 
¼ tsp salt 
½ cup cold butter, cut into 2 – 3 cm cubes 
1 cup 35% cream, very cold 
1 Tbsp vanilla extract
A little cream for gilding 
Turbinado sugar to decorate (opt.) 
Strawberry garnish
1

Preheat oven to 375 °F.

2

Place all strawberry garnish ingredients in a bowl and mix well.

3

Separate the preparation into four cocottes or ramequins that contain approximately 2 cups each, or into a dish measuring 8 or 9 inches. Place the bowls or the dish on a baking sheet, in case of any overflow.

4

Pour all the dry crust ingredients into a large bowl and mix well.  

Add butter cubes to the dry mixture and blend making sure to crush each cube with your fingers to create small disks within the crust.

5

Add cream and mix well to properly incorporate all the ingredients.

6

Using an ice cream spoon, place one or two scoops of dough into each ramequin. Brush some cream on the dough and sprinkle with Turbinado sugar.  

7

Place a rack in the middle of the oven and cook for 45 minutes.