Strawberry Danish and Lemon Sansho Icing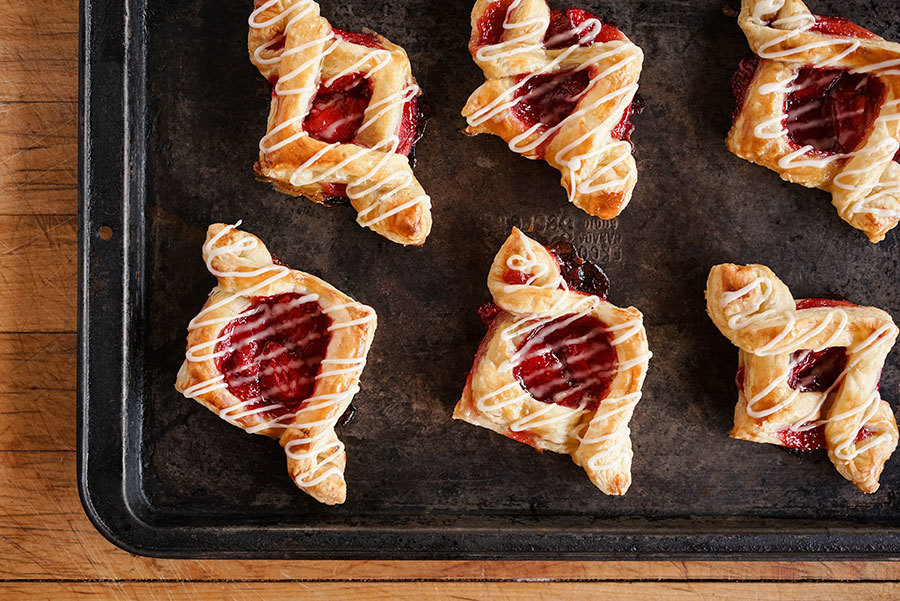 Sansho is a small Japanese pepper with tangy lemon notes, which lends an incomparable fragrance to these Danishes. Makes 18 Danishes. 
Danish
2 pure butter puff pastry doughs
1 egg yolk, beaten
1 Tbsp water  
Strawberry garnish
4 cups de-stemmed strawberries, cut in two
1 Tbsp lemon juice  
¾ cup sugar 
3 Tbsp cornstarch  
Icing
2 cups granulated sugar
Lemon zest
1 Tbsp Sansho pepper, finely ground and sifted
2-3 Tbsp lemon juice, freshly squeezed  
Garnish
1

Place all the strawberry garnish ingredients in a pan.

2

Cook on medium heat until the preparation thickens and coats the back of a spoon.

3

Transfer into a glass jar and place in the refrigerator. Allow to cool completely. 
Danishes
1

Preheat oven to 400 °F and position the rack in the middle of the oven.

2

On a floured work surface, spread the pie dough and using a sharp knife or a pizza cutter, fashion them into 10 – 12 cm squares.  

3

Cut a 1-inch length arrow into the center of each square, making sure to leave ½ inch of the border of the dough uncut.

4

Place 1 Tbsp of strawberry garnish in the middle of the Danish, then combine and wind the corners together, pinching them closed on either side of the garnish.

5

Mix the egg yolk and water in a small bowl. Brush each Danish with the egg gilding.

6

Bake in the oven for approximately 20 minutes or until the Danishes are golden. 
Icing
1

Mix all ingredients in a bowl to obtain a homogenous icing. If necessary, add lemon juice or granulated sugar to adjust the consistence.  

2

Decorate the Danishes by drizzling a stream of icing to create parallel lines or squares.