Stuffed Apples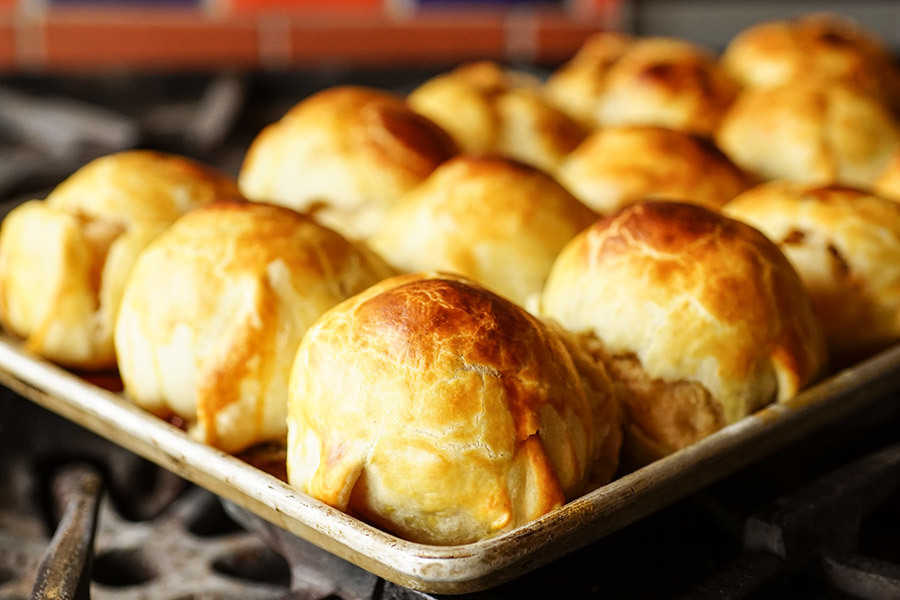 This stuffed apple recipe isn't overly sweet, so it makes a nice breakfast or brunch. It can also be a great dessert with a little ice cream or maple syrup.
Dough
2¼ cups all-purpose flour
1 pinch salt
½ tsp nutmeg, grated
¾ cup cold butter, cut into pieces
4 Tbsp cold water
1 egg, beaten (to glaze the dough)
Apple Stuffing
6 dried apricots
6 pitted prunes
2 Tbsp raisins
½ tsp cassia buds, ground
6 apples
Juice of ½ lemon
Method
1

Sift flour with salt and nutmeg.

2

Transfer to a food processor and add butter. Pulse until grainy and some pea-sized pieces of butter remain.

3

Place the mixture in a bowl and add water gradually while stirring with your hands.

4

Shape the dough into a ball, wrap it in plastic and let rest at least 1 hour.

5

Cut apricots and prunes into strips. Place in a bowl and add raisins and ground cassia buds. Stir and set aside.

6

Peel and core apples. Place in a bowl with water and lemon juice.

7

Remove dough from fridge and bring to room temperature for 30 minutes, if needed.

8

Preheat oven to 375°F.

9

Divide dough into 6 equal pieces. Lay each piece on a floured surface.

10

Place an apple on each piece of dough, then stuff it with the dried fruit blend.

11

Wrap each apple with the dough and tightly seal on the bottom.

12

Brush each apple with a little beaten egg and place them on a baking tray.

13

Bake each apple at 375°F for 10 minutes. Reduce heat to 350°F and continue cooking for 25-30 minutes until golden brown on top.