Stuffed Georgian Cheese Mushrooms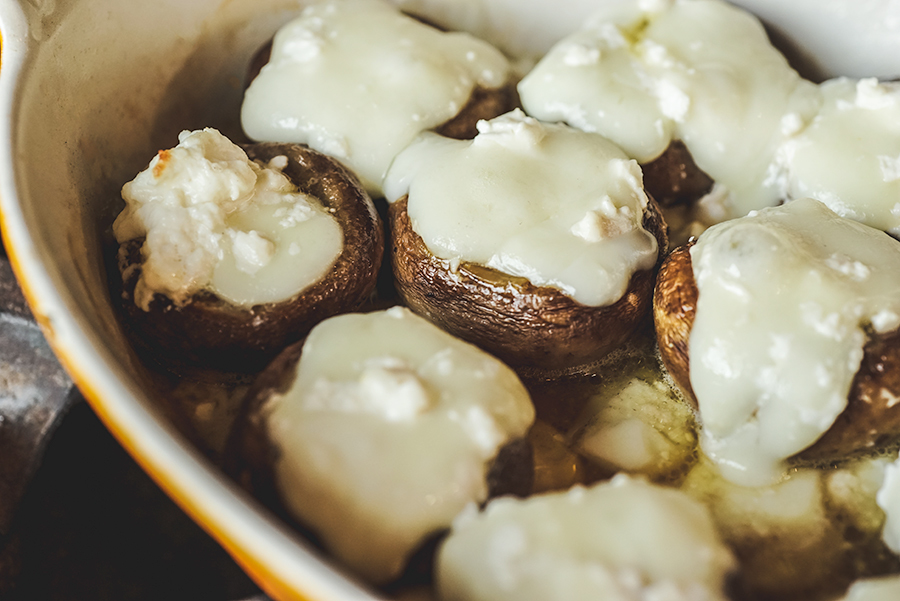 An easy-to-make appetizer! You can cook the mushrooms beforehand and put them in the oven just prior serving. Be generous with the stuffing; the cheese will melt and reduce in volume, while any overflow will blend deliciously with the mushroom juice already in the ramequin. 
In Georgia, this dish is made with Sulguni cheese, which is slightly tart and salty. We have found that a combination of Mozzarella and feta is a wonderful substitute.
Ingredients
18 large white mushrooms 
2-3 oz butter
6 oz Mozzarella
3 oz Feta
Method
1

Heat the oven to 450 °F.

2

Carefully remove the mushroom tails, making sure not to damage the caps.

3

Pick a ramequin that can accommodate the mushrooms. Butter the ramequins and place the mushrooms. Put a piece of butter in every mushroom. Roast for 10 to 12 minutes, until the mushrooms are cooked. Remove from the oven.

4

Meanwhile, grate the mozzarella into a bowl. Crumble the feta into small pieces into the same bowl. Mix carefully.

5

Generously stuff the mushrooms. Place in the oven and cook for 5 to 7 minutes, until the cheese melts and turns golden.

6

Serve immediately.