Sudheer's quick Chicken Curry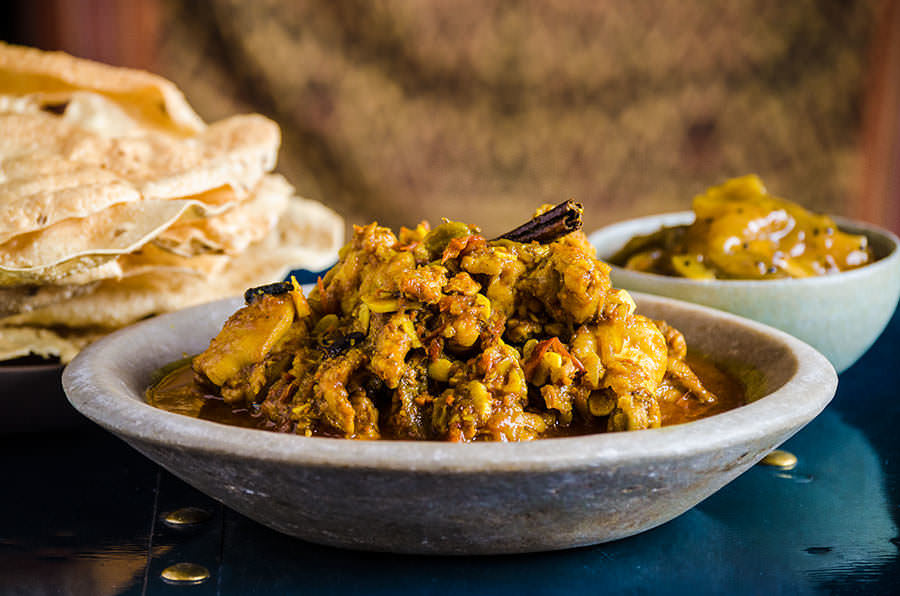 Our friend Sudheer prepared this chicken curry after we all had spent a long day together visiting friends in the Cardamom Hills. Unlike his wife who make her own traditional masalas, Sudheer used a local, commercial ''chicken masala.'' However, he felt compelled, as a spice merchant, to add a few whole spices for added fragrance.
Ingredients
1 medium chicken
4 Tbsp coconut oil or vegetable oil
1 onion, chopped
6 garlic cloves, chopped
2 Tbsp ginger, chopped
2 tomatoes, chopped
4 green cardamom pods
1 two-inch cinnamon stick
4 cloves
2 Tbsp Madras curry, ground
1½ cups water
salt to taste
Method
1

Remove the skin and cut the chicken with the bone into 2-inch pieces. Set aside.

2

Heat a pan on medium heat. Pour in oil and add onion. Cook for 5 minutes, stirring occasionally. Add garlic and ginger and cook for 2 more minutes.

3

Add tomatoes, cardamom, cinnamon and cloves. Cook until the paste is almost dry.

4

Mix the curry with just enough water to make a paste. Add to the pan and cook for 2 more minutes.

5

Add chicken and water. Salt to taste.

6

Bring to a boil and let simmer half-covered for 45 minutes.

7

Let rest for 15 to 20 minutes before serving, if you have time.