Sumatra Style Fiddleheads with Smoked Salmon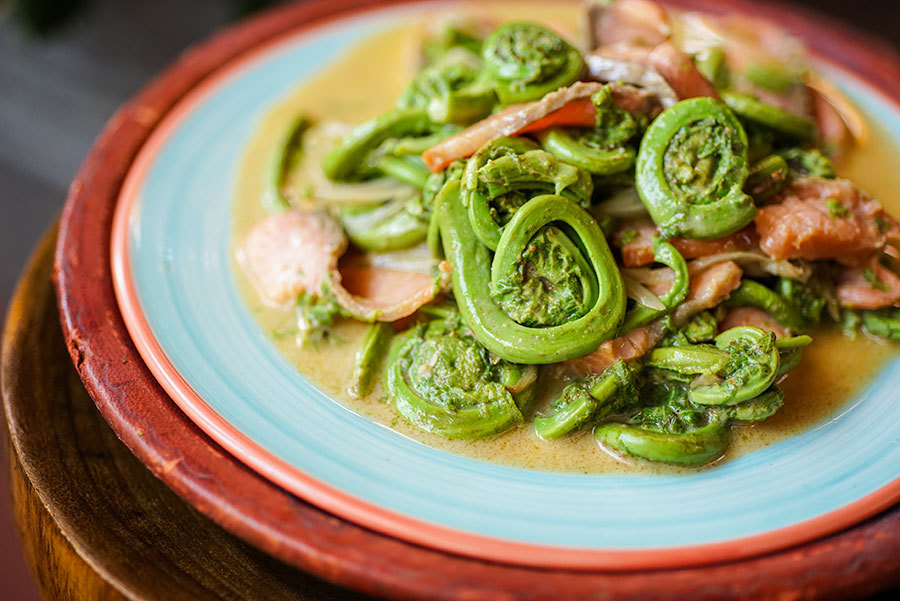 Many varieties of fern are eaten in Sumatra. They're often cooked with dried shrimp or smoked fish. 
Ingredients
1 lb fiddleheads
2 Tbsp vegetable oil
1½ cup coconut milk
¼ lb smoked salmon, julienned
Salt
Spice Paste
3 shallots
3 cloves garlic
1 inch ginger
1 finger kra chai (lesser galangal)
1 Thai chili
2 tsp green pepper, ground
1 tsp lemon zest
Method
1

Clean, wash and blanch fiddleheads in a large volume of salted water for 5 minutes.

2

Rinse fiddleheads in running water. Drain and set aside.

3

Place spice paste ingredients in a food processor. Add a few spoonfuls of coconut milk if you prefer a smoother paste.

4

Heat oil in a large pot on medium and sauté in the spice paste until fragrant (3-4 minutes).

5

Add coconut milk and simmer for 5 minutes.

6

Add the fiddleheads and the salmon. Simmer for 5 minutes. 

7

Taste and salt if needed.