Summer fruit and mastic sponge cake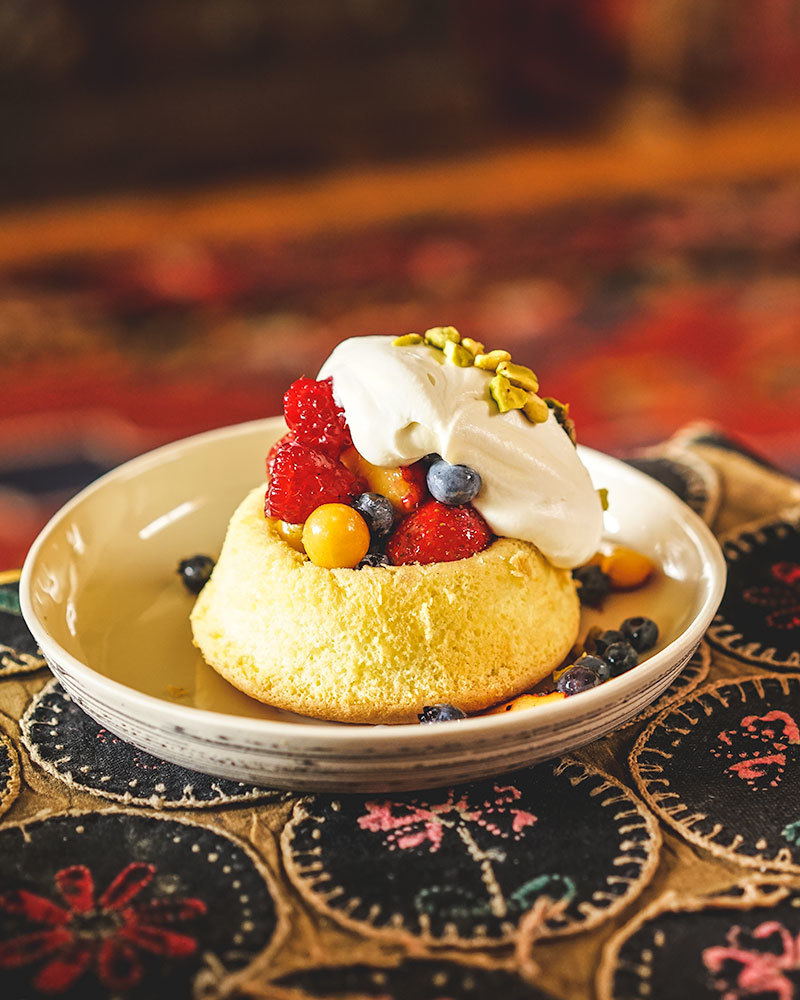 Greek cuisine was the inspiration for these little cakes made of honey, mastic and olive oil. We recommend ripe, juicy fruits such as strawberries, raspberries, peaches, melons etc. as garnishes. The cakes will soak up the juice rendered from the fruits making them even more tasty!
Piece of advice: Place the mastic and the mortar in the freezer for a few minutes before grinding. This makes reducing the mastic to a powder easier and it does not "gum" up the mortar.
Cake
1 tsp mastic
½ cup sugar
3 eggs, separated
3 Tbsp olive oil
4 Tbsp water
⅔ cup of pastry flour
1 tsp baking powder
Fruit blend
4 cups assorted fruits
½ cup sugar
¼ cup honey
3 Tbsp lemon juice
1 tsp lemon zest, grated
Yogurt Cream
½ cup Greek yogurt
¼ cup honey (Greek, if possible)
¼ cup whipping cream
Garnish
¼ cup pistachios, chopped
Cake
1

Heat oven to 350 °F.


2

Put mastic in a mortar with 3 Tbsp sugar, grind well. Incorporate the remaining sugar. 

3

Beat egg yolks in a blender with ⅓ of the sugar for 1 minute. Incorporate oil and water and beat for another 30 seconds. 

4

Sift flour and baking powder. Delicately incorporate ⅓ of dry ingredients into egg yolks, then another third and finally, the remaining ingredients. Set aside. 

5

Beat egg whites slowly in a very clean bowl, with half the remaining sugar. Pour in the balance of sugar when the egg whites become lathered and opaque. Beat vigorously until soft, little peaks form. 

6

Delicately incorporate the blend of yolks into the egg whites in three stages.

Spray or moisten 8 small, muffin molds using a damp paper or cloth. Place enough dough into each mold using a spoon and fill to within a ¼ inch from the edge of the mold. 

7

Cook in the oven for 20 minutes. Remove when the cakes become golden and a toothpick inserted into the center, comes out clean. 

8

Let cool for 15 minutes before unmolding.
Fruit blend
1

Wash, clean and cut fruits if necessary.  

2

Place all ingredients into a bowl and mix well. Set aside.
Yogurt Cream
1

Pour yogurt and honey into a bowl and mix well.

2

Whisk the cream in a bowl until it becomes somewhat firm. Incorporate into the yogurt.
Assembly
1

Place a small cake on a plate. Using a spoon, add the fruits and their extracted juices from the bowl. Add a few spoonsful of yogurt cream and garnish with chopped pistachios.