Summer Fruit and Samos Wine jelly mold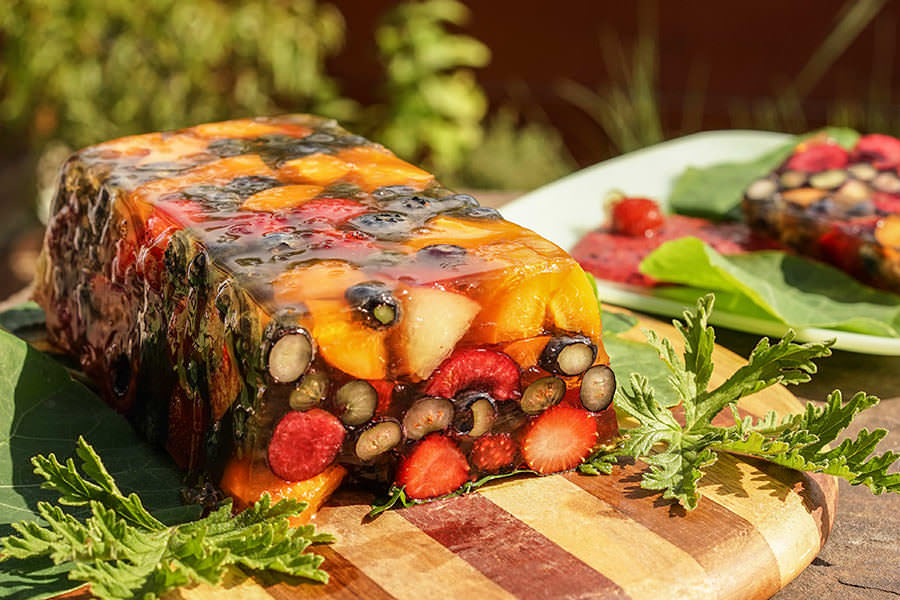 Samos Muscat wine is a fragrant, sweet wine, perfect for desserts. Don't let its reasonable price fool you- it's actually quite good! For this recipe, choose ripe, but still firm, fruit (e.g., nectarines, apricots, berries, plums, cherries). Avoid fruit with a lot of water (e.g., melons, citrus, pineapple). 
Ingredients
6 cups summer fruit
2 packets gelatin powder
2 cups Samos wine or other sweet wine
2 2-inch pieces lemon zest
4 Tbsp lemon juice
2 Tbsp fragranced honey
2 tsp vanilla extract
Method
1

Wash, seed, stem and cut chosen fruit in (more or less) equal-sized pieces (to make 6 cups).

2

Sprinkle gelatin into a small pot with ¼ cup cold water.

3

Pour wine into another pot with lemon zest, lemon juice and 1 tablespoon honey. Put on medium heat and bring to a boil. Simmer for 1 minute and turn off heat.

4

Melt soaked gelatin on very low heat, stirring constantly. Pour into the hot wine; stir well and strain into a bowl.

5

Select a mold that can accommodate all the fruit. Pour enough wine into the mold to fill it ¼-inch deep. Place the mold on a flat surface and chill in the fridge for 20 minutes.

6

Remove the mold. Jelly should be setting. If not, return it to the fridge for a few minutes. Delicately spread 5 cups of fruit evenly into the mold. Press gently with your hands.

7

Place bowl with the remaining wine on some ice to cool rapidly, stirring regularly. Pour over fruit when liquid starts to turn syrupy. Gently shake mold to remove air bubbles. Delicately press plastic wrap on top and refrigerate for 12 hours.

8

Place the remaining fruit in a blender with the last tablespoon of honey and vanilla extract and purée. Strain the coulis if desired.

9

To remove jelly, run a small knife around the sides of the mold. Place the bottom of the mold onto a bowl or pot of hot water to unstick the jelly. Shake jelly to ensure it will slide out easily. Put a plate on top of the mold; quickly turn it upside down to unmold.

10

Serve with the fruit coulis.