Sweet and Sour Pineapple Chicken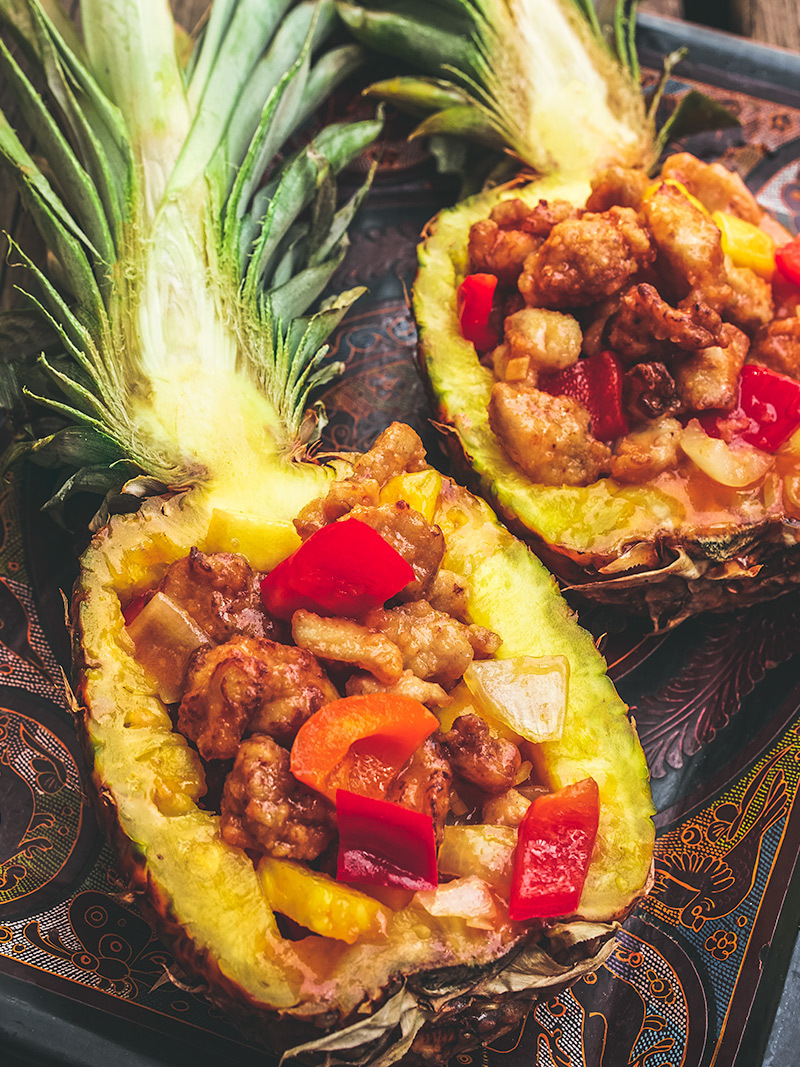 One of the most famous dishes on Earth, sweet and sour chicken, pork, or fish originated in Eastern China. In fact, there are numerous forms of sweet and sour sauce in China, but the classic combination of rice wine and sugar (today adjusted with ketchup) is what took the world by storm.
This is one of the few dishes where using canned pineapple may be as good as using the fresh fruit. You can replace some of the stock or water in the sauce with the pineapple juice if you like.
Ingredients
1 lb boneless, skinless chicken thigh meat
½ cup corn starch
Oil for frying
1 clove garlic, minced
1 inch ginger, minced
1 white onion, peeled and chopped in 1 incn pieces
1 red bell pepper, chopped in 1 incn pieces
1 yellow bell pepper, chopped in 1 incn pieces
½ pineapple, cubed, or 1 can pineapple chunks
Marinade
1 egg white
1 Tbsp rice wine or mirin
½ tsp salt
½ tsp white pepper, ground
Sauce
¼ cup stock or water
3 Tbsp rice wine
3 Tbsp ketchup
2 Tbsp sugar
1 Tbsp rice vinegar
3 tsp corn starch
Method
1

Cut chicken into 1-inch cubes and place in a bowl.

2

Mix all marinade ingredients together and pour on top of chicken. Mix and marinate 30-60 minutes.

3

Meanwhile, stir all sauce ingredients together.

4

Add at least 2 inches of oil to a wok or thick pot on high heat.

5

Place corn starch in a large bowl and dredge marinated chicken pieces. Be sure to coat chicken evenly.

6

When oil is hot, deep fry chicken pieces until crispy and lightly browned, about 4 minutes for each batch (there should be 2 or 3 batches). Place on a plate lined with paper towels and set aside.

7

Discard frying oil, leaving about 3 tablespoons in the wok. If there is any corn starch in the oil, discard it all and start with 3 new tablespoons of oil.

8

When oil is hot, add garlic and ginger and fry for 30 seconds. Add onions and bell pepper and stir fry until starting to soften, 4-5 minutes.

9

Add pineapple chunks and mix well. If using canned pineapple, drain it first, reserving some of the juice to add to the sauce.


10

Stir the sauce ingredients again, ensuring the corn starch is incorporated. Add sauce ingredients to the pot and stir well.

11

Taste sauce and adjust seasoning if necessary. When sauce begins to boil and thicken, add the fried chicken pieces.

12

Mix well and simmer for another 30 seconds to 1 minute.

13

Serve with white rice.