Sweet Potato Fishcakes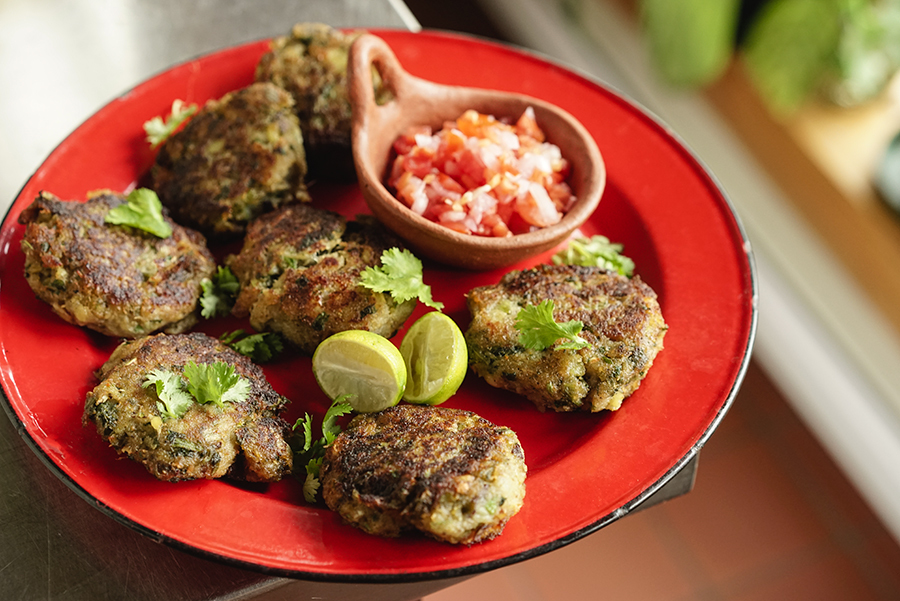 These Caribbean flavoured croquettes can be served along with cocktails or as a light meal, accompanied by a salad or rice. The spice blend used is slightly piquant, but we still like to add a little habanero chile – suit yourself and adjust to your taste!
Ingredients
1 lb salt cod, boneless 
2 lbs white or orange sweet potatoes
1 package green onions
5 Chardon Béni leaves* or 1 small bouquet cilantro
½ bouquet parsley
2 Tbsp ginger 
1 Tbsp Caribbean Layover blend, ground
½ tsp fresh habanero, chopped or dry, ground (opt.)
2 tsp black pepper, ground 
Coconut oil or vegetable oil for frying the croquettes 
* Ngo gai in some Asian grocery stores
Method
1

Rinse the salt cod in water. Cut into 1-inch cubes. Place in a bowl of fresh water for 24 hours to desalt further and rehydrate the cod. 

2

The following day, wash the sweet potatoes well and cook in boiling water until tender. Place the sweet potatoes on a plate and let cool for 30 minutes.

3

Meanwhile, strain the cod and press between your hands to eliminate any excess water. Place in a food processor and blend until frayed. Transfer to a bowl.

4

Chop the green onion, chardon béni, parsley and ginger, then grind finely in a food processor. Pour into the bowl containing the cod, add spices and black pepper. Incorporate the cod by hand. Crush the warm sweet potatoes, add to the cod then continue blending by hand to obtain a firm purée. The result can now rest for a few hours if necessary or even for 24 hours, refrigerated. 

5

Make fishcakes to the desired size.

6

Heat a large pan on medium-high. Pour in enough oil to cover the bottom of the pan. Cook a few fishcakes at a time, making sure that they don't touch. Fry until golden for 3–4 minutes on either side. Repeat until all the croquettes are cooked. Add more oil if necessary.