Taco Salad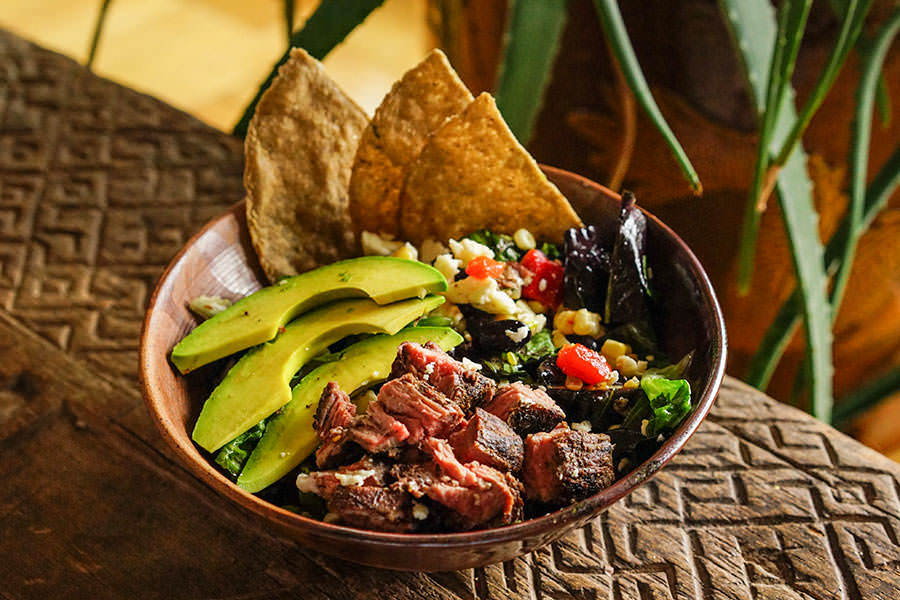 Taco salad is a crowd-pleasing classic. Today, it commonly includes corn, beans, tomato, avocado, cheese, and steak or chicken, but it originally developed as a lettuce-based vehicle for disposing of Mexican food leftovers. Top it with whatever feels right and the Cali-Mex dressing will do the rest!
Dressing
¼ cup olive oil
Juice of 2 large or 3 small limes
2 tsp Cali-Mex blend, ground
Salt to taste
Salad
1 head lettuce, chopped (green leaf, Boston, or other tender leaf lettuce)
2 tomatoes, chopped roughly
1 cup corn
1 cup black beans
1 cup Carne Asada, diced
½ cup mild cheese, shredded (panela, mozzarella, jack)
¼ cup cilantro, chopped
Tortilla chips for garnish
Sliced avocado for garnish
Method
1

Put dressing ingredients in a jar and shake vigourously. Set aside.

2

Place chopped lettuce in a large bowl. Add tomatoes, corn, and black beans and toss. Add salad dressing and mix well, ensuring the vegetables are evenly coated.

3

Top with cheese, meat, and cilantro. Ring salad with tortilla chips and avocado if desired.