Tacos al pastor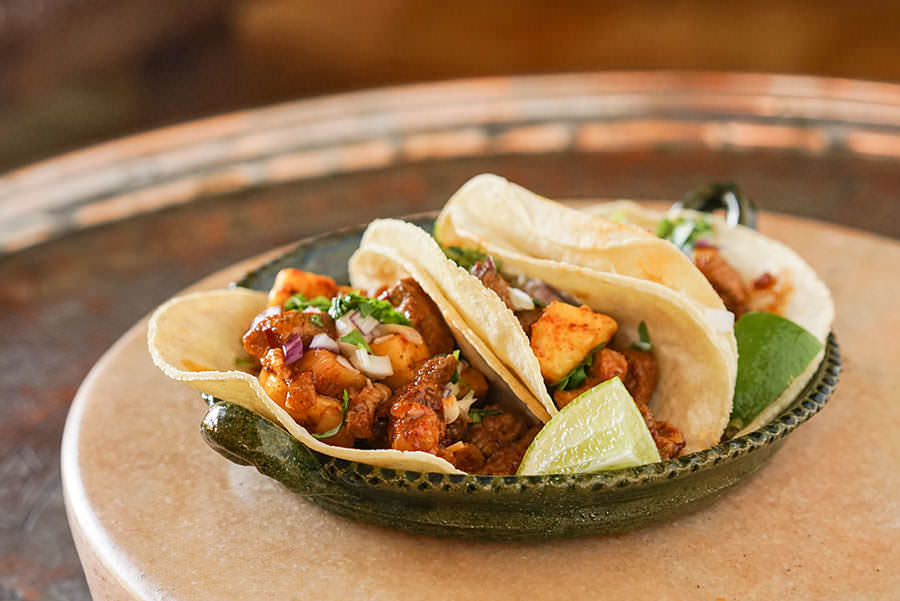 In Mexico, tacos al pastor are made with meat cooked on a vertical spit, like those used for shawarma or shish taouk. This cooking method was passed down by Lebanese immigrants who arrived in Mexico over a century ago. Of course, this recipe was adapted to local tastes with the addition of spices, chilies… and pineapple!
Ingredients
3 lbs pork, sliced into strips
2 tsp olive oil
2 onions, chopped
½ pineapple, cubed
Tortillas
Cilantro for garnish
Pickled jalapeños (opt.)
Marinade
Method
1

Place all the marinade ingredients in a food processor and purée.

2

In a bowl, mix the marinade and pork strips. Marinate between 12-24 hours in the fridge.

3

Remove meat from fridge 20 minutes before cooking. Heat a pan on medium. Add the oil and onions. Sauté for 2 minutes.

4

Add pork and sauté for 6-8 minutes.

5

When the meat is cooked, add the pineapple and stir well.

6

Serve with tortillas and garnish with cilantro, pickled onions, and jalapeños.