Tacos de carnitas de pato – Duck Tacos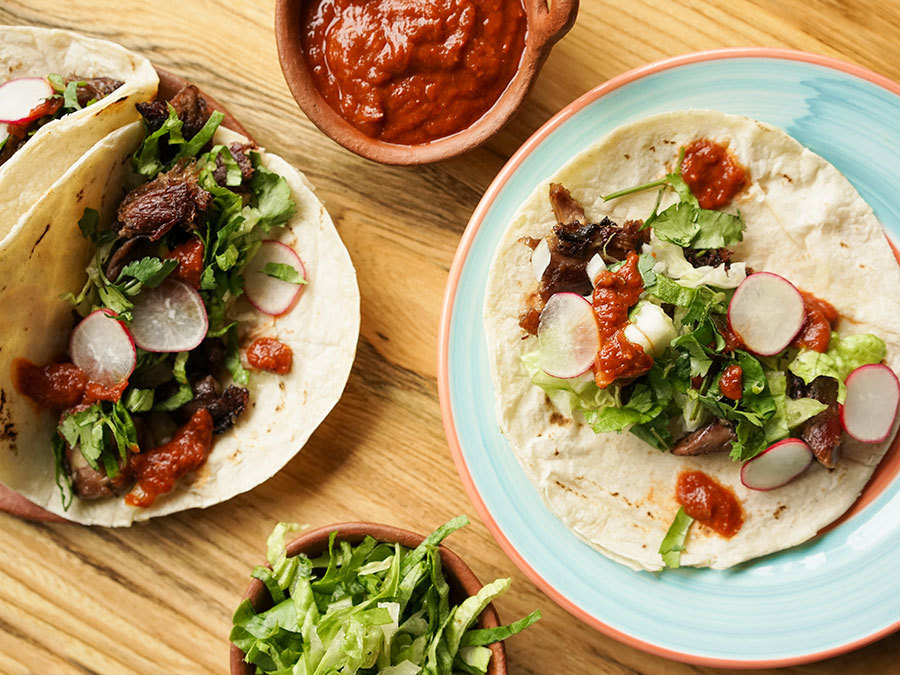 Carnitas are usually made with pork cooked in its own fat, a technique resembling making a confit. With this recipe, we in fact confied the duck before adding it to tortillas. With home-made salsa and an abundance of garnishes, this taco went from simple to spectacular!
Duck carnitas
4 duck thighs, with fat
1 onion
4 garlic cloves
2 Tbsp coarse sea salt 
1 orange
Tacos
12-18 corn tortillas
Duck carnitas
Cascabel salsa, to taste
2 cups shredded lettuce or cabbage 
1 cup sweet onions, chopped 
1 cup radishes, chopped
1 cup coriander, chopped 
Lime wedges
Carnitas
1

Remove fat from thighs. Place the thighs, duck fat, onion, garlic and salt in a large enough pan, to make only one layer.

2

Pour water half way up the thighs. Cover and boil for 10 minutes.

3

Remove the cover and let steam for 1h to 1h15, until the meat is tender and begins to fall apart. Remove from heat and let rest for 1 hour. 

4

Remove the duck from the pan. Pour ½ cup of cooking fat into another pan. Add the duck and orange juice. Cook on medium heat until the juice is absorbed, and the meat begins to brown.

5

Reduce the heat and thoroughly brown the duck pieces for about 15 minutes. Take the meat out of the pan, remove the bones then shred, using a fork, or chop the meat with a knife.
Tacos
1

Heat tortillas in a very hot, dry pan. Set aside in a basket, lined with a napkin to keep them hot and soft.

2

Garnish the tortillas with the carnitas, salsa, lettuce, onion, radishes and coriander.

3

Fold tacos and add some lime juice and more salsa, to taste.