Tahini, Honey and Garlic Salad Dressing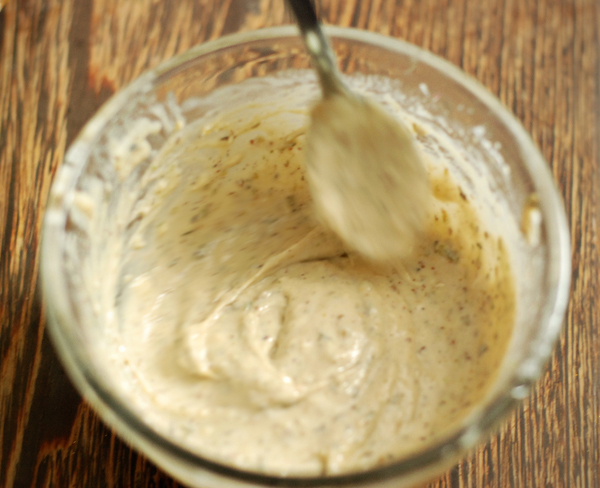 cEthné likes pouring this dressing over endives. We often serve it with warm beets, carrots or cooked asparagus as well as with any raw vegetable spread
It is also the perfect accompaniment to chicken, pork or beef kebabs. The amount of water you use in this recipe will determine whether you make a light vinaigrette, a sauce or a dip.
Ingredients
2 tsp Cider Vinegar or Wine
1 Garlic clove, finely chopped
1 tsp Zaatar or Nordic Zaatar
1 tsp Honey
2 tsp Tahini
1 tsp Olive Oil
1 tsp Roasted Sesame Oil
Salt and Pepper, to taste
Method
1

In a small bowl, mix the vinegar, garlic, zaatar, salt, pepper and the honey. Allow two minutes for infusion.

2

In the meantime, mix the tahini in its jar with a fork to render it smooth.

3

Add two good spoonfuls of tahini to the bowl and mix until the vinaigrette thickens to a homogenous consistency.

4

Add enough water to render the sauce creamy. Add the oils.