Turkey and Sweet Potato Tajine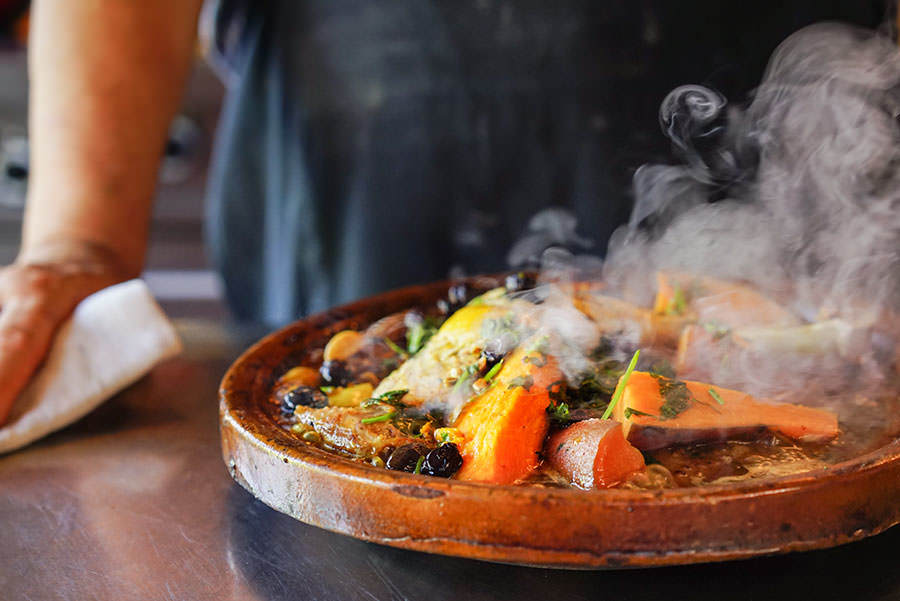 In Morocco, green or purple olives are generally used in meat tajines. For this tajine, which is made with ingredients rarely used in North Africa, we chose to use black olives which, in addition to being better looking, go perfectly with the taste of sweet potatoes.
Ingredients
1 large turkey thigh
2 turkey wings
The white part of 2 large leeks
12 cloves garlic
2 Tbsp Tajine blend, ground
2 tsp salt
2 large sweet potatoes
¼ cup olive oil or 4 Tbsp butter
18-24 black olives
Black pepper
Fresh parsley or cilantro, chopped
Method
1

Rince the turkey in warm water and pat dry.

2

Slice the leek whites into thin rounds. Place at the bottom of a tajine pot or casserole with the garlic cloves.

3

Sprinkle spices and salt over the turkey and place in the tajine. Add the oil and ¼ cup of water.

4

Cover and put the tajine on the stove over low heat.

5

Peel the sweet potatoes and cut into quarters.

6

Simmer the tajine for 45 minutes, starting from the moment the turkey began to cook. Add the peeled, quartered sweet potatoes and cook for another 45 minutes.

7

10 minutes before the dish is finished cooking, add the olives and pepper generously.

8

Garnish with parsley or cilantro and serve.