Tamarind meatballs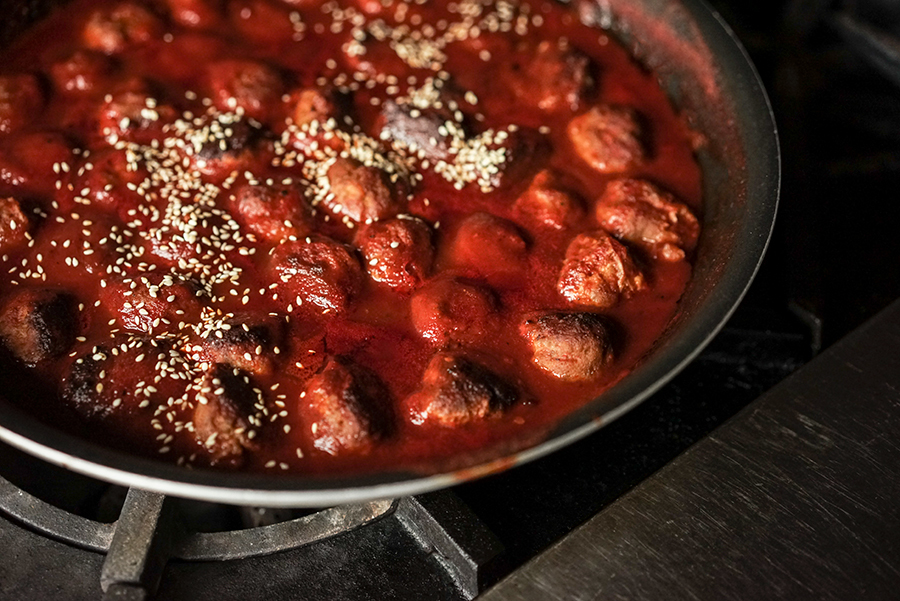 A traditional, Aleppo-Jewish recipe, that combines the tartness of tamarind with that of tomatoes. A dish that is equally delicious when reheated.
Ingredients
1 cup fresh crustless bread, cubed
2 eggs
Salt to taste
1 Tbsp Aleppo pepper
1 lb minced meat
2 Tbsp olive oil
4 Tbsp tamarind paste
6 oz tomato paste
1 Tbsp sugar
3 Tbsp sesame seeds (opt.)
Method
1

Place the bread in a bowl. Add 1 cup water, mix and drain immediately. Squeeze the bread between your hands to expel the water.

2

Add the eggs, salt and Aleppo pepper to the drained bread cubes. Massage with your hands until a smooth substance without lumps is formed (2–3 minutes).

3

Incorporate the minced meat by hand until homogeneous.

4

Make about 3 dozen golf size meatballs.

5

Heat a pan with oil on medium and brown the meatballs on all sides.

6

Meanwhile, prepare the sauce. Crush the tamarind in 1 cup of water, with your hands.

7

Choose a casserole large enough to accommodate the meatballs. Pour the diluted tamarind, tomato paste and sugar into the casserole.

8

Mix well and bring the sauce to a boil. Delicately incorporate the meatballs once golden.

9

Simmer for 30 minutes. Taste and adjust the salt and pepper, if necessary.

10

Roast the sesame seeds in a dry pan and garnish the meatballs before serving.