Tandoori chicken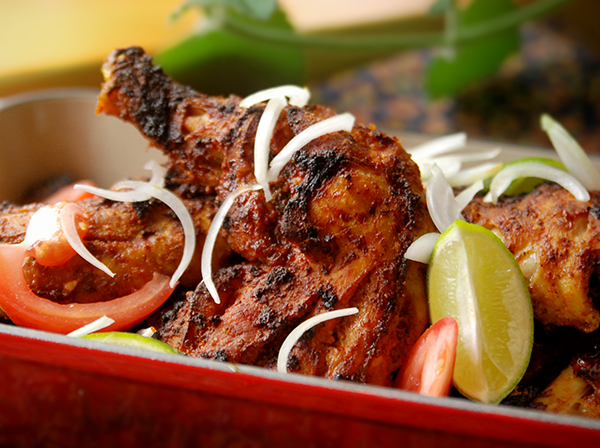 This Tandoori chicken recipe comes from the north of Punjab. It is traditionally cooked in a Tandoor, a cylindrical clay oven which is sometimes buried in the earth or standing above the ground.
We like serving this dish with Naan bread or Basmati rice, a raita and a selection of chutneys.
Ingredients
3 lb chicken
½ cup ghee OR melted butter
Marinade 1
1 tsp salt
1 Tbsp vinegar
6 garlic cloves, chopped
Marinade 2
1 onion
Hot chile to taste
3 Tbsp Tandoori Masala, ground
½ cup natural yogurt (preferably, thick)
Juice of 1 lemon
¼ cup melted butter
3 Tbsp ginger, ground
2 Tbsp paprika
Method
1

Remove the skin from the chicken.

2

Prick the chicken thoroughly using a fork.

3

Marinate for 1 hour in Marinade 1.

4

Using a food processor, reduce all ingredients in Marinade 2, to a purée.

5

Rub this mixture on the chicken and marinate for 1 to 12 hours in the refrigerator.

6

Remove the chicken from the marinade.

7

Mix the remaining marinade with the melted ghee and set aside for basting.

8

Cook the chicken at 375 °F, for approximately 1 hour, basting often.

9

Finish cooking on broil with the remaining marinade to form a caramelized crust.