Tandoori Turkey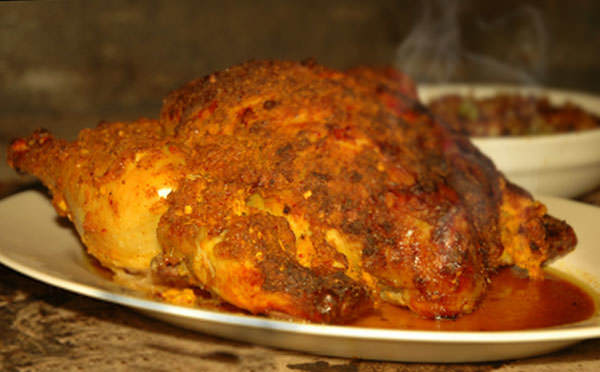 Rethink the classics this holiday season with our Tandoori Turkey recipe. Serve with retooled cranberry chutney.
Ingredients
1 turkey, 12-15 lbs
½ cup ghee or melted butter
Marinade 1
3 tsp salt
18 cloves garlic
3 Tbsp vinegar
Marinade 2
3 onions
Hot pepper, to taste
1 can Tandoori Masala, ground
1½ cups plain yogurt
Juice of 3 lemons
9 Tbsp ginger, grated
Method
1

Preheat the oven to 375°F.

2

With a fork, prick the turkey all over.

3

Rub Marinade 1 thoroughly onto the turkey and let marinate for one hour.

4

In a blender, combine the ingredients of Marinade 2 and reduce to a purée.

5

Rub this mixture over the turkey. Place in a plastic bag and store to marinate in the refrigerator for 24-48 hours.

6

When the turkey is finished marinating, remove it from the bag. Reserve the excess marinade.

7

Combine remaining marinade with melted ghee.

8

Cook turkey at 375°F for about 3 hours, basting frequently with marinade and ghee mixture.

Check doneness and serve.