Tashkent wedding Plov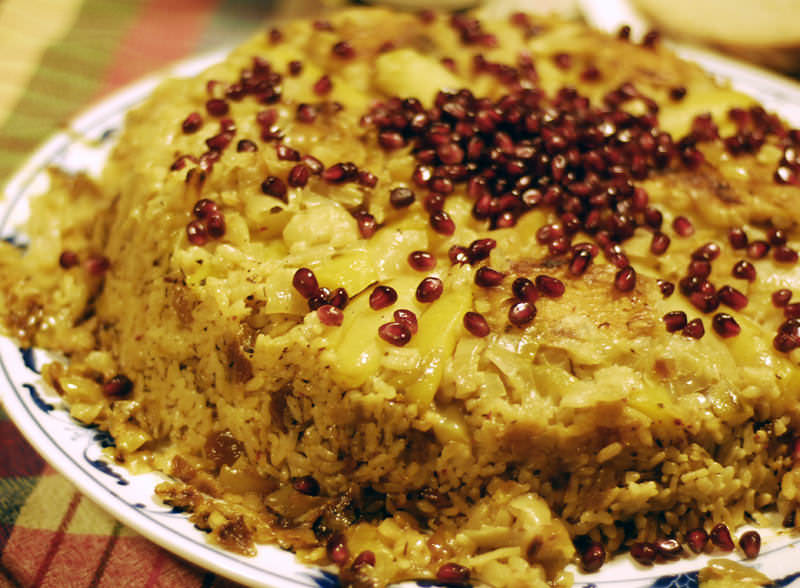 Plov is one of the pillars of Central Asian cooking. In Uzbekistan, it is unthinkable to make this iconic dish without using wild, black cumin. This recipe was kindly passed on to us by Jack our most generous Uzbek black cumin supplier. It is possible to substitute the lamb by using chicken or chickpeas for a vegetarian version.
Ingredients
3 cups long grain rice
1 kg lamb shoulder, cubed
8 Tbsp vegetable oil
3 medium onions
1 head of garlic, whole
1kg carrots (yellow if possible)
1 Tbsp coriander, ground
1 Tbsp paprika
1 tsp black pepper, ground
4 cloves
1 tsp cumin, ground
1 cup of raisins
1 cup barberries / zereshk (opt.)
Salt
3 Tbsp wild black cumin
Method
1

Place the rice in a bowl and cover with water.

2

Heat a large pot. Pour in the oil and add the lamb. Cook on high heat until the meat browns.

3

Cut the onions in four and add them to the meat with the head of garlic. Mix and cook for 5 minutes.

4

Add the spices and enough water to cover the meat and the onions. Cook for another 15 minutes.

5

Meanwhile, peel and cut the carrots lengthwise.

6

Place the carrots on the meat. Strain the rice and add it to the pot. Add enough boiling water to cover the rice. Shake the pot gently in order to spread the rice evenly.

7

Bring to a boil. Sprinkle the raisins, barberries, black cumin and salt into the pot. Cook another 5 minutes.

8

Reduce the heat to low, cover and cook for another 20 minutes.

9

Garnish with pomegranate if you wish. Serve with a tomato and green onion salad.