Tawa Fish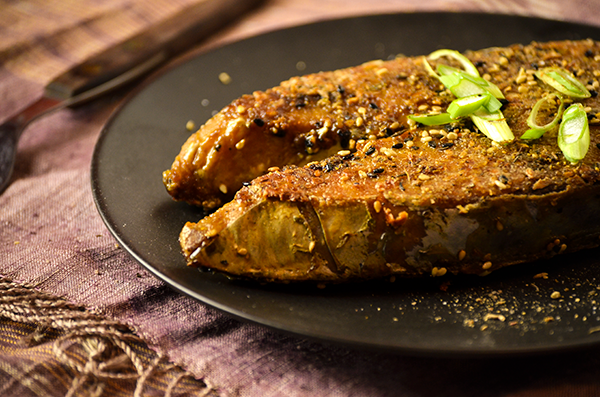 A straightforward recipe that can be prepared using any firm-fleshed white fish. The seasoning is a delicious combination of pepper, sesame and ginger.
This recipe is courtesy of Anuradha Bhalla in Delhi, India.
Ingredients
2 lbs. sliced frigate tuna or of another firm-fleshed white fish
Cornstarch, to dredge fish
Vegetable oil, for cooking
Marinade
4 Tbsp light soya sauce
3 tsp Fish Masala, ground
1 Tbsp Black Pepper, ground
1 Tbsp garlic, puréed
3 Tbsp sesame seeds
1 Tbsp ginger, puréed
Method
1

Wash and salt the fish.

2

In a bowl, combine Marinade ingredients. Marinate the fish for 30-60 minutes.

3

Dredge fish in cornstarch.

4

In a heavy pan, heat the oil on high heat. Fry the fish on both sides until golden.