Tempeh with Balinese Curry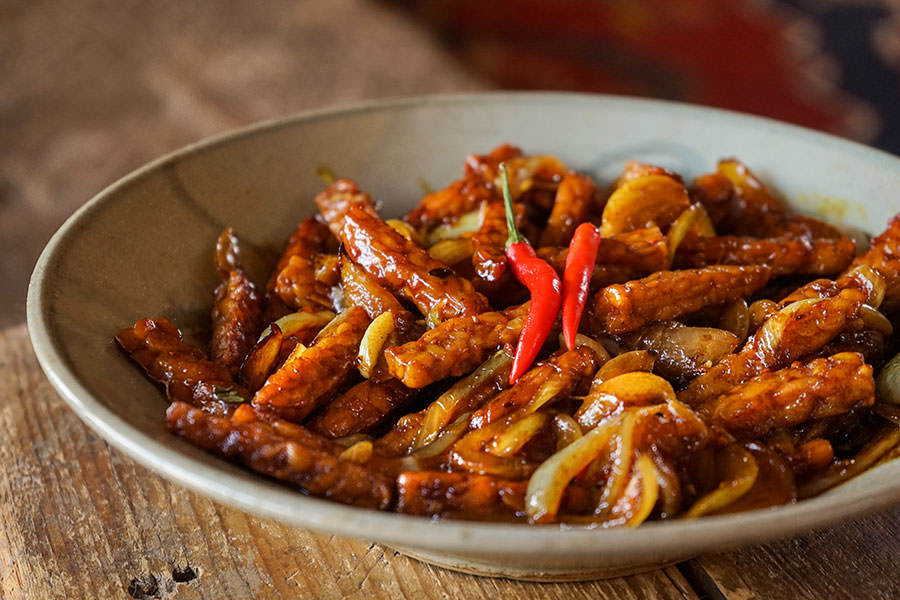 A perfect dish for a vegetarian meal, served hot or cool, accompanied by rice and a vegetable curry. 
Ingredients
1 block tempeh (250 g)
½ cup oil
2 medium onions, sliced thin
2 cloves garlic, minced
1 Thai chili, minced or samba olek
1 tsp Balinese curry, ground
¼ cup kejap manis
 2 tsp soaked tamarind or lemon juice
Method
1

Cut the tempeh into 1 cm matchsticks.

2

Heat the oil in a wok and cook half the tempeh until it begins to brown and get crispy. Repeat with the rest of the tempeh.

3

Remove the crisp tempeh and place on a paper towel. Return the wok to the heat with about 2 Tbsp oil.

4

Add the onion, garlic, and chile and cook on high heat for about 1 minute. Add the spices, mix well, then add the tempeh.

5

Stir fry for another minute or so, then add the kejap and the tamarind. Mix well until the tempeh is well coated.