Teriyaki Chicken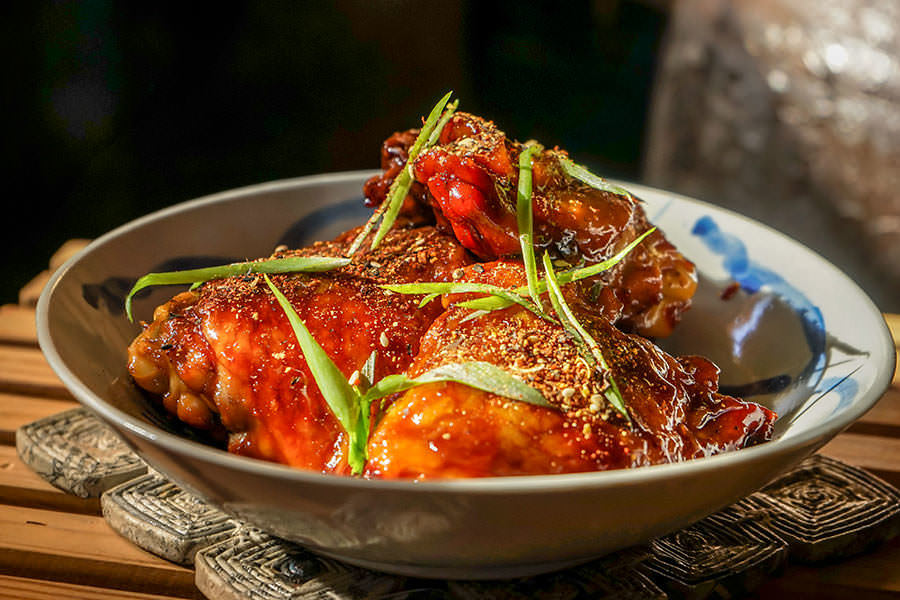 You can also make this Teriyaki with boneless chicken breast, ideally with the skin. It's excellent served with vegetables sautéed with ginger.
Ingredients
4 chicken thighs, skin on
2 Tbsp vegetable oil
¼ cup Japanese soy sauce
4 Tbsp sugar
4 Tbsp sake or white wine
4 tsp shichimi togarashi or 1 tsp ground sansho
Method
1

Wash the chicken and dry thoroughly with a paper towel.

2

Over medium flame, heat a large pan (large enough to fit the whole chicken).

3

Pour the oil into the pan and brown the chicken, skin side down, around 5 minutes.

4

Turn the chicken and cook the other side for another 5 minutes or so.

5

Meanwhile, stir the soy sauce, sugar, and sake in a bowl until the sugar is dissolved.

6

Remove any excess fat in the pan (leave around 1 Tbsp.). Pour the sauce over the chicken and cook until it thickens.

7

Continue turning the chicken regularly to ensure an even glaze. Remove when the sauce is completely reduced.

8

Pour the sauce over the chicken, sprinkle on the shichimi togarashi and serve.