Tex-Mex Beef Tacos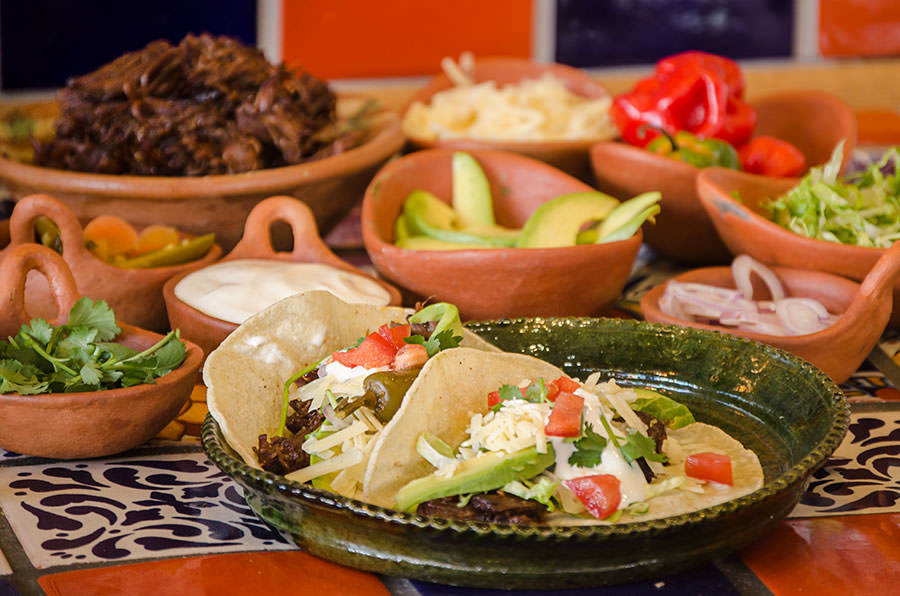 This shredded beef recipe can be made even more slowly by using a crock pot and it also tastes better when reheated. When our kids were little, we managed to convince them that this ''slow food'' was part of their weekly ''junk food'' ration. We didn't completely fool them, but as they delighted in constructing their own tacos, the mutually beneficial arrangement proved very pleasing to all.
Ingredients
chuck roast on the bone (3-3½ lbs)
4 Tbsp Tex-Mex spices, ground
2 tsp salt
3 Tbsp brown sugar
Tacos
tortillas
lettuce, chopped
avocado, sliced
cilantro
salsa
pickled jalapeños
Spanish onion, chopped
cheddar cheese, grated
sour cream
Method
1

Mix spices, salt and sugar. Rub meat with the blend.

2

Place meat in an oven-proof dish. Seal well with aluminum foil (or cover) and refrigerate overnight.

3

Cook meat covered in the oven at 275 °F, for 3 to 4 hours.

4

Remove bone and shred meat in the pan using two forks. Mix meat with cooking juices. 

5

Serve with hot tortillas and assemble the tacos to your liking.