Tex-Mex Chicken Fajitas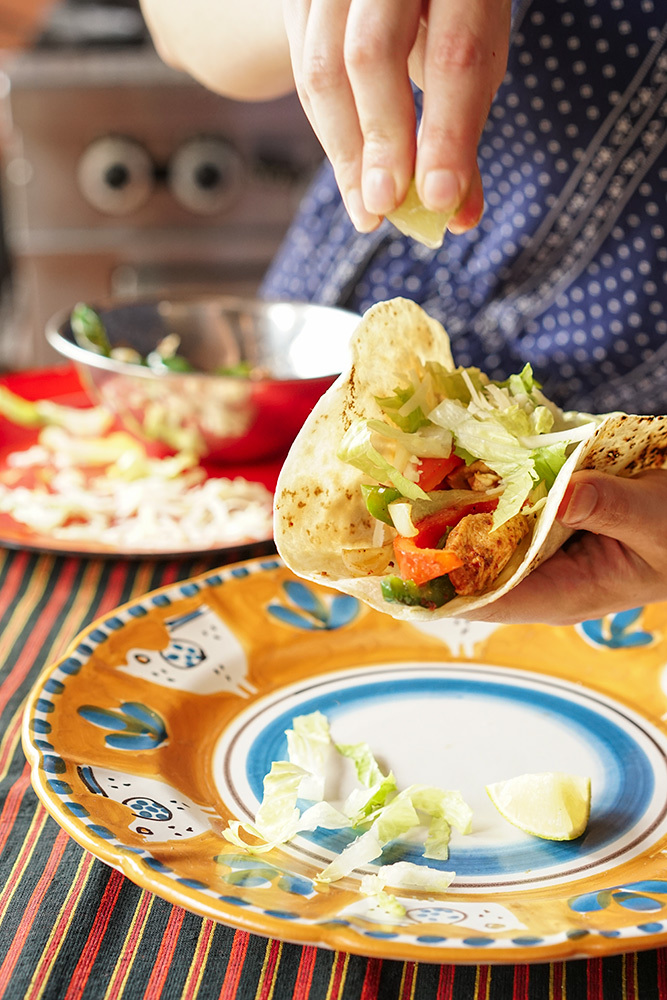 These fajitas take no time to prepare and are simply fabulous. With a good selection of garnishes, everyone is in their element.
Ingredients
1 lb de-boned chicken 
3 Tbsp Tex-Mex blend, ground 
2 tsp salt 
Juice of 1 lime
2 garlic cloves, finely chopped
1 red bell pepper
1 green bell pepper
1 yellow bell pepper
1 medium Spanish onion
¼ cup olive oil
12 wheat tortillas
Garnishes
2 cups slivered lettuce
1 cup cheddar, grated  
1 cup sour cream
Lime quarters
Method
1

Slice the chicken into strips and place in a bowl with the spices, salt, lime juice and garlic.  Mix well and let rest while preparing the other ingredient.




2

Clean and cut the bell peppers in strips. Slice the onion into rings.





3

Prepare the garnishes.




4

Heat a large pan on high. Pour in oil and brown the chicken, cooking only half way. Place the chicken in a bowl, leaving the oil in the pan.





5

Put the peppers and the onion in the pan. Add oil if necessary and sauté the vegetables until almost cooked (5 to 6 minutes).





6

Add the chicken to the pan and sauter 2 to 3 minutes more to finish cooking.




7

Heat the wheat in a hot pan.  




8

Place the pan with the chicken, Bell peppers, tortillas and garnishes on the table and allow everyone the pleasure of preparing their very own fajitas.