Tex-Mex pork ribs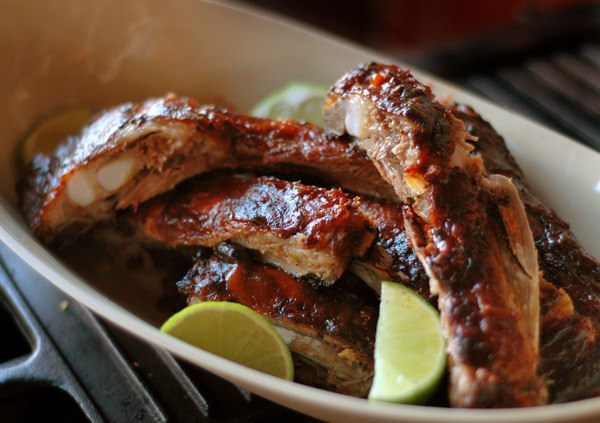 This is a carnivores' dream come true. It's a simple recipe that requires very little work, only an occasional "look see" to make sure that everything remains under control.
While cooking, the meat might become dry depending on the amount of fat it contains and the cooking method used.


In Texas it is customary to add a little beer to the leftover marinade, to occasionally brush on the meat to prevent it from drying out. In fact any savory liquid would do: wine, fruit or even tomato juice would be a good idea.
Ingredients
Tex Mex Blend
1 kg piece of pork ribs
¼ cup wine vinegar
6 garlic cloves, chopped
2 Tbsp Tex-Mex spices, ground
2 tsp salt
Baste
½ cup Ketchup
¼ cup Dijon mustard
2 Tbsp honey
Method
1

Mix together the vinegar, garlic, ground Tex-Mex spices and salt.

2

Rub the meat thoroughly and let rest refrigerated for as long as you can (1 to 48 hours).

3

Remove the meat from the refrigerator one hour before cooking.

4

Place the meat on a baking sheet and cook on very low heat in a covered BBQ or in the oven at 300ºF (140ºC).


5

Cook the pork for 2 ½-3 hours. Mix the basting ingredients together and brush on the sides of the meat.

6

Cook for 45 minutes more.