Thanksgiving Swiss chard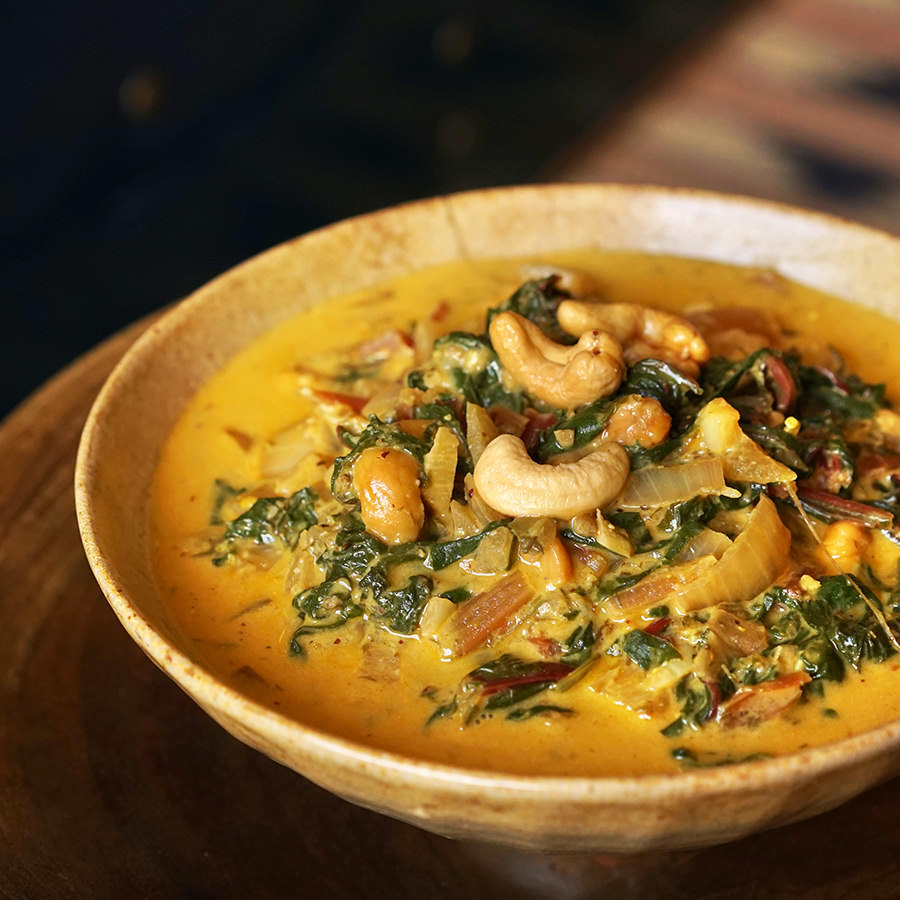 We made this recipe one Thanksgiving and it's been on our menu ever since. The wakame is rehydrated in sauce, adding salt and umami flavors to the dish. At home, we eat cooked greens several times a week : Collard greens, Swiss chard, turnip leaves, watercress, spinach, beet greens - you name it! The range of options is so extensive, you could cook them all the same way and still never grow tired of leafy greens.
Ingredients
1 large bunch Swiss chard
4 Tbsp coconut oil
3 medium onions, chopped
½ tsp coriander seed
1 tsp mustard seed
¼ tsp thyme
½ tsp fennel seed
½ tsp turmeric
½ tsp pepper
4 cloves garlic, chopped
Chile to taste
3 Tbsp tomato paste
3 Tbsp wakame
1 cup chicken stock
2 cups coconut milk
3-6 Tbsp (approx.) creamed coconut
1 cup cashews
Salt to taste
Method
1

Wash chard and separate leaves from stems. Chop leaves roughly and cut stems into ¾-inch pieces. Grind spices.

2

Put oil in a large pot on medium heat. Add onions. Sauté until onions become translucent, about 5 minutes. Add ground spices, garlic, chile and tomato paste and fry, stirring occasionally, for another 2-3 minutes.

3

Add chard stems and wakame. Stir and fry for another 2-3 minutes. Add chicken stock and coconut milk and bring to a boil. Simmer until chard stems are nearly tender. Add chopped leaves and cook for a few minutes.

4

Stir in creamed coconut to make a creamy sauce. Add cashews. Add salt, if needed.