Three Sisters Vegetarian Chili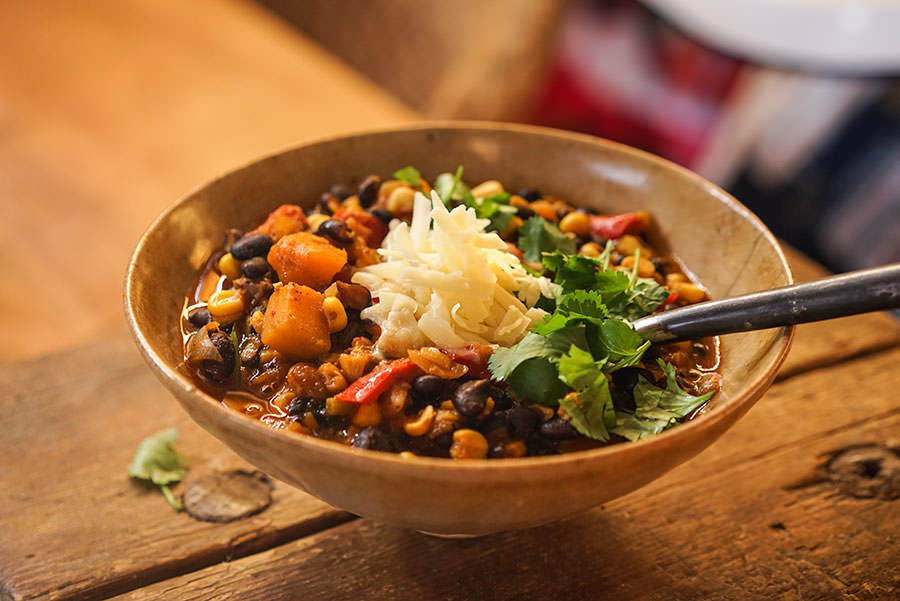 A perfect dish for weekday evenings when you want an easy way to make a healthy, nourishing, tasty meal. Go ahead and double or even triple this recipe, since it keeps for weeks in the fridge.
The Iroquois called the ingredient trio used in this recipe the "the three sisters." They knew, long before Europeans arrived that corn, beans and squash were mutually supportive when cultivated together. Jacques Cartier observed this himself when he saw the fortified village of Hochelaga, on the island of Montreal. This polyculture farming technique is found in many North American First Nation myths.
Ingredients
2 Tbsp olive oil
1 onion, chopped
½ red bell pepper, diced
1 Tbsp chili spices, ground
3 cloves garlic
1½ Tbsp tomato paste
1 cup corn kernels
1 cup squash, diced
2 cups black/red beans (and their cooking liquid, if possible)
Salt and pepper, to taste
Garnishes
Cheddar cheese, grated
Sour cream
Cilantro, chopped
Method
1

Heat a large pot on medium. Sauté onions in oil until translucent, just a few minutes.

2

Add pepper, spices, garlic, and tomato paste. Sauté a few minutes more.

3

Add corn, squash and beans. Salt and pepper. Add just enough water or bean cooking liquid to cover the vegetables. Bring to a boil, then reduce heat and simmer for 45 minutes.

4

Serve with one or several garnishes, to taste.