Cipollini Tian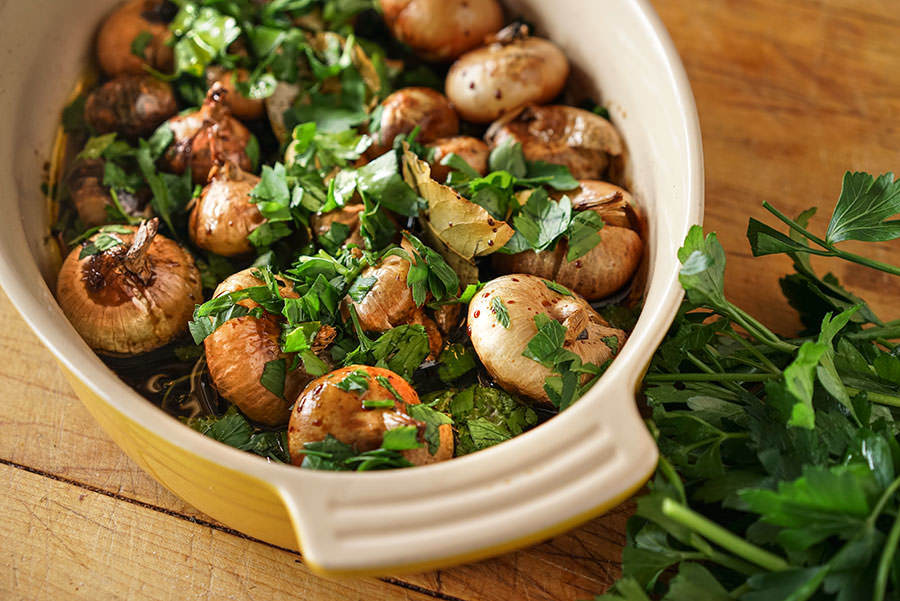 Cipollini are small, sweet onions. If you don't have any, use small onions, unpeeled, instead.
Ingredients
2 lbs Cipollini onions, skin-on
2 tsp black pepper, cracked
6 Tbsp olive oil
Salt to taste
4 Tbsp balsamic vinegar
¼ cup parsley
Splash olive oil for finishing
Method
1

Preheat oven to 325°F. Place unpeeled onions, bay leaf and ½ the olive oil in a bowl. Salt and pepper. Mix well.

2

Spread vegetables evenly and attractively on a roasting dish and sprinkle with remaining olive oil.

3

Place the roasting dish in the center rack of the oven. Roast until almost cooked, between 1-1¼ hours.  Pour balsamic vinegar onto the onions and cook 10 minutes more.

4

Garnish with parsley leaves and a splash of olive oil.