Parsnip and Duck Fat Tian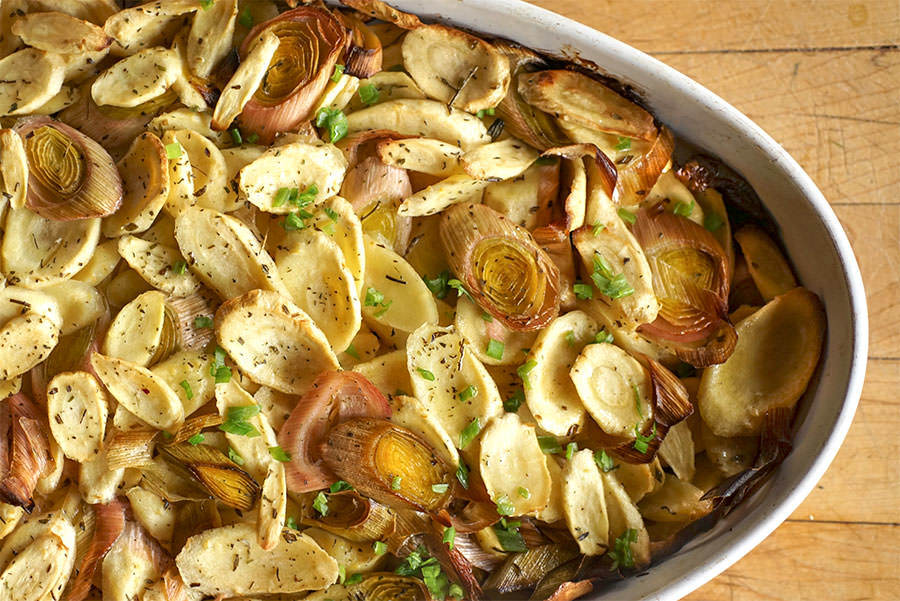 In Provence, a Tian is a type of earthenware roasting tray that is used for vegetable and gratin dishes of the same name. Once cooked, a Tian is generally left to cool before serving.
Ingredients
2 lbs parsnips
2 medium leeks
1 tsp thyme
1 tsp tarragon
1 ½ Tbsp mustard seed
6 Tbsp duck fat
Salt and pepper to taste
4 cabbage leaves
¼ cup chives
Method
1

Preheat oven to 325°F. Chop parsnip and leek whites into more or less equal-sized pieces. Set leek greens aside for another use.

2

Place vegetables, spices and ½ the fat in a bowl. Salt and pepper. Mix well.

3

Scatter cabbage leaves around a Tian or roasting dish. Place vegetables on top and pour on remaining duck fat.

4

Place the roasting dish in the center rack of the oven. Roast until cooked to your liking, between 1¼-1½ hours.

5

Garnish with chives.