Tlatelolco Cornbread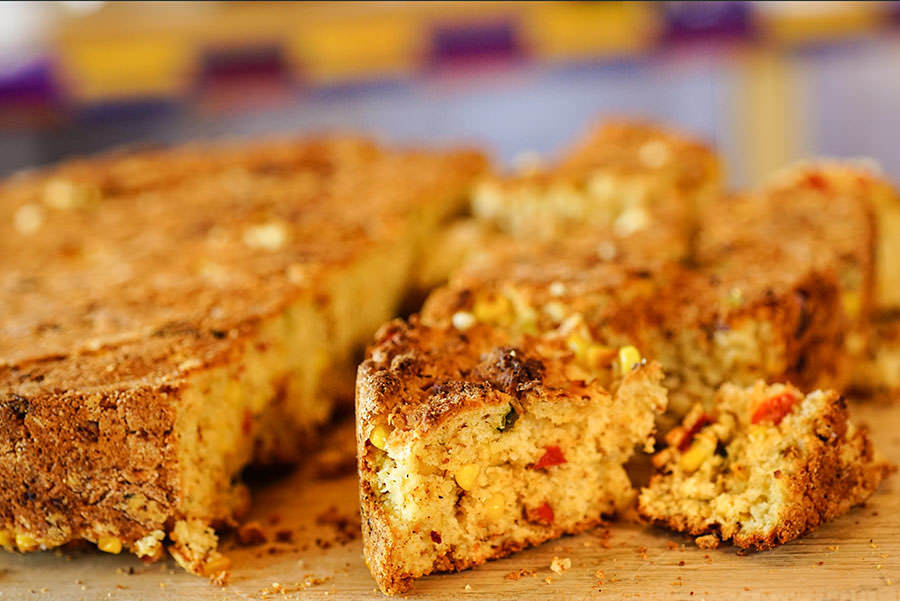 This is a hearty and filling cornbread that could almost be a meal in itself. The smoky and slightly hot Tlatelolco rub has some salt in it, so be careful not to oversalt it. A hint of sugar brings out the sweetness of the corn.
Ingredients
½ cup poblano pepper, diced
¾ cup corn kernels
Oil for frying
1 cup corn flour
1 cup all-purpose flour
1 Tbsp baking powder
1 Tbsp Tlatelolco rub, ground
½ tsp salt
1 tsp sugar
1 cup grated cheddar cheese
2 Tbsp melted butter (plus more for lining pan)
2 eggs
3 cups milk
Method
1

Preheat oven to 425 F.

2

Heat oil in a pan on medium. Add peppers and sautée for 2-3 minutes until the soften. Add corn and sautée for another 3-4 minutes. Remove vegetables from heat and set aside to cool.

3

Combine the dry ingredients in a large bowl. Set aside.

4

Beat eggs and milk together in a small bowl.

5

Add the grated cheese and vegetables to the dry ingredients and mix well. Add the melted butter, milk and eggs and incorporate gently.

6

Line a baking pan with butter and pour in the batter. Make sure it is relatively flat on top for even cooking.

7

Place in the oven and bake for 30-40 minutes until a knife inserted in the center comes out dry.