Tom Yum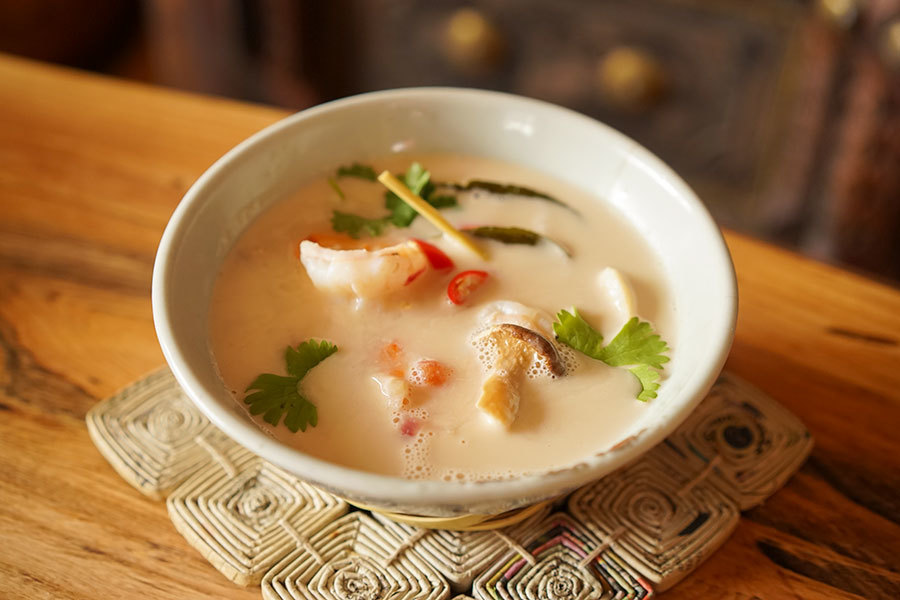 Tom Yum (or Tom Yam) is a Thai soup flavored with lemongrass and lime leaves. For a different version, replace the shrimp with chicken and make the soup with chicken stock.
Ingredients
½ lb shrimp, shell-on
6 cups water
2 slices galangal, dry or fresh
1 stalk lemongrass or lemon zest
3 cloves garlic, chopped
3 shallots, chopped
1 to 4 fresh Thai chilies, chopped
2 Tbsp fish sauce
1 cup coconut milk (opt.)
1 cup oyster mushroom or other mushroom
2 less-ripe tomatoes, chopped
¼ cup lime juice
Salt to taste
1 tsp sugar or honey (opt.)
½ cup cilantro
Sambal oelek to serve
Method
1

Peel shrimp. Place shells in a pot with water. Boil 5 minutes. Filter stock and return to the pot.

2

Add galangal, lemongrass, lime leaves, garlic, shallot, chile, fish sauce, and, if you like, coconut milk. Bring to a boil and cook 2 minutes.

3

Add peeled shrimp and mushrooms. Cook 2 more minutes. Add tomato and cook 1 minute more.

4

Remove from heat. Add lime juice and chopped cilantro to the pot. Taste and adjust with salt, fish sauce, and/or palm sugar. Serve with sambal olek on the side.