Tomatillo Pulled Beef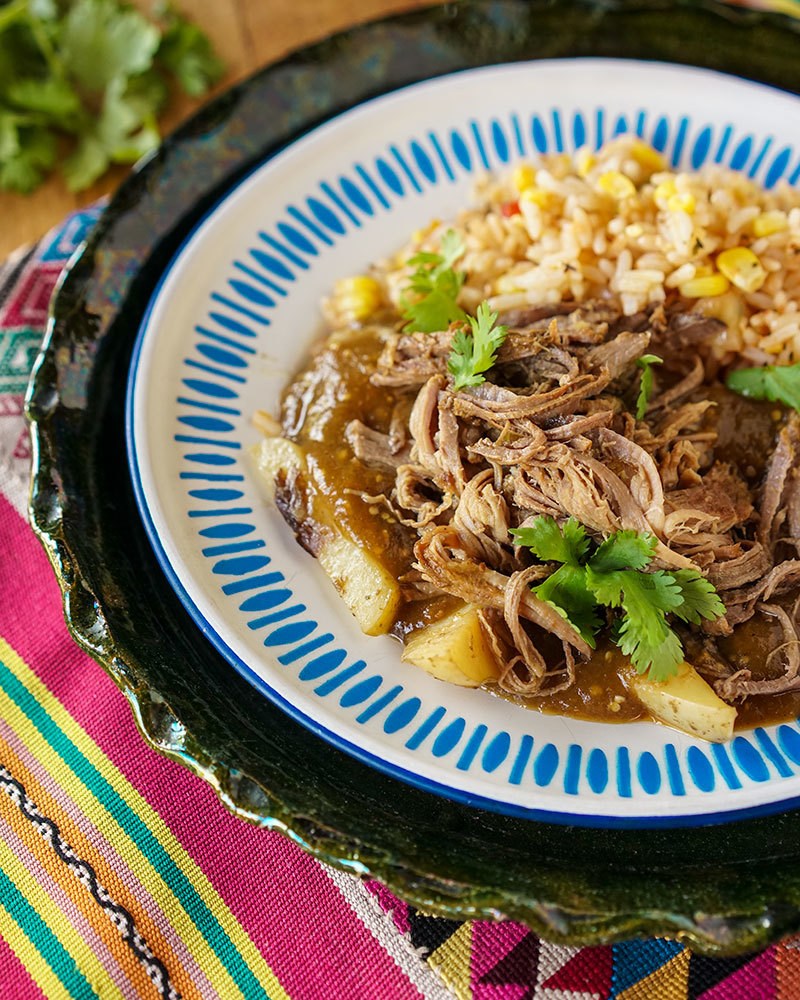 This beef with salsa verde makes amazing sandwiches, tacos or quesadillas! Avocado leaves – ever popular in Mexican cusine – add a light anis fragrance, alongside Morita chilies, which contribute a touch of smokey heat. If you don't have brisket, the flank or another cut that braises well will do.
Ingredients
2 lb brisket
2 Tbsp olive oil
2 onions
1 Tbsp cumin
1 Tbsp oregano, Mexican if possible
Salt and pepper to taste 
5 medium new potatoes
6 to 8 tomatillos
2 morita chilies or chipotles
4 garlic cloves
¼ cup fresh coriander, chopped
Method
1

Heat a heavy-bottomed pot on medium-high heat. Pour in the oil and brown the beef on all sides. Set aside.

2

Slice the onions into thick rings and brown for 2 minutes on either side.

3

Place the beef on the onions and pour ½ cup of water into the pot.

4

Lightly roast the cumin, then the oregano for a few minutes in a dry pan, on medium heat. Add them to the pot. Lightly toast the avocado leaves for a few seconds until they darken in colour and become fragrant. Add them to the pot, salt and pepper to taste.  

5

Cover and let simmer on low heat for 2 to 2 ½ hours., until the meat is tender. Alternately, cook for 6 to 7 hours in a crock pot, on low heat. 

6

Meanwhile, prepare the salsa verde. Remove the envelope around the tomatillos and place them in a small pan with just enough water to cover them. Bring to a boil and cook for 10 minutes on medium heat. 

7

Heat a pan on medium heat and grill the chilies for 15 to 20 seconds on either side, until they become fragrant and lightly toasted. Toast the garlic cloves for 3 to 4 minutes on each side to blacken them a little.  

8

Place cooked tomatillos, with a little of their water in a blender, crush the chilies with your fingers and add to the blender with the blackened garlic and fresh coriander. Salt and blend into a purée. Set aside.

9

Cut potatoes into small pieces ½ hour before the beef is cooked then add them to the pot (1 hour before if you're using a crock pot).

10

Remove the beef and most of the remaining liquid, once cooked. Pour the cooking juice into the pan and mix gently so as not to bruise the potatoes. Let simmer a few minutes. 

11

Meanwhile, shred the meat using two forks along with some of the cooking juice to make it more tender. Transfer the hot liquid into a dish, place the meat on top and garnish using the fresh coriander.

12

Conserve the remaining liquid from the beef and use in rice or a soup.