Smoked fish tostada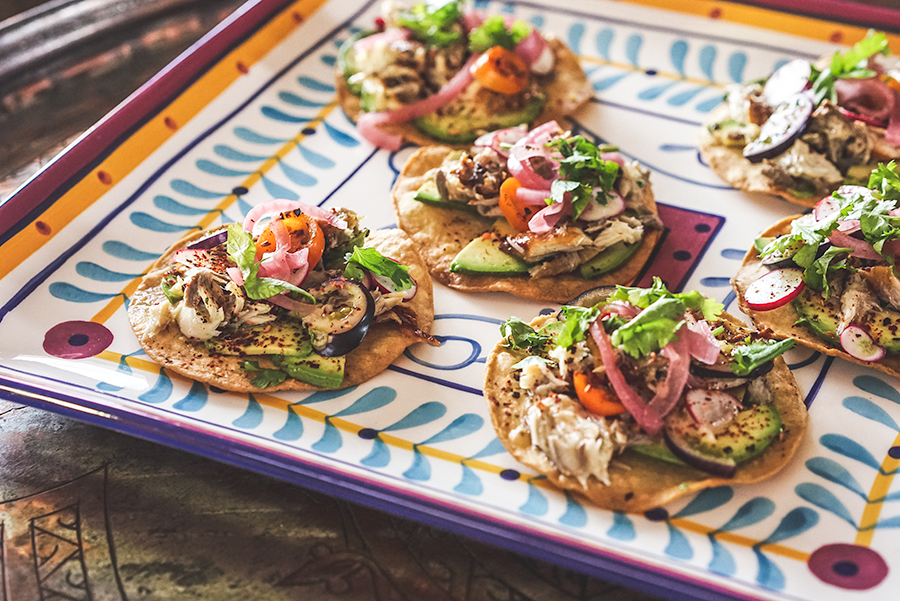 The perfect cocktail canapé!  If you'd rather not have to fry the tostadas, they can be found already packaged, in groceries that carry Latin American products.  
Ingredients
12 small 4-inch corn tortillas
1 cup vegetable oil, for frying
½ lb smoked mackerel OR other smoked fish
Juice of 2 limes
2 Tbsp olive oil
2 medium avocados
6 small, multi-coloured tomatoes
6 radishes
2 Tbsp Guerrero Rub
6 Tbsp pickled red onions
½ cup cilantro
Method
1

To make the tostadas, heat the oil in a pan on medium-high and fry the tortillas one by one until golden and crispy. Drain on a paper towel. This step can be done in advance.

2

Shred the fish to pieces with your fingers and put in a bowl. Add the lime juice and olive oil. Mix well.

3

Place the tostadas on a work surface.

4

Peel and finely slice the avocados. Puree in a bowl with a fork if the avocados are too ripe. Place on the tostadas.

5

Place the smoked fish on the avocado.

6

Slice the tomatoes and radishes and place them on the fish.

7

Sprinkle on the Guerrero Rub. Garnish with marinated onions and chopped cilantro. Serve the tostadas quickly before they soften.