De Vienne Family Meat Pie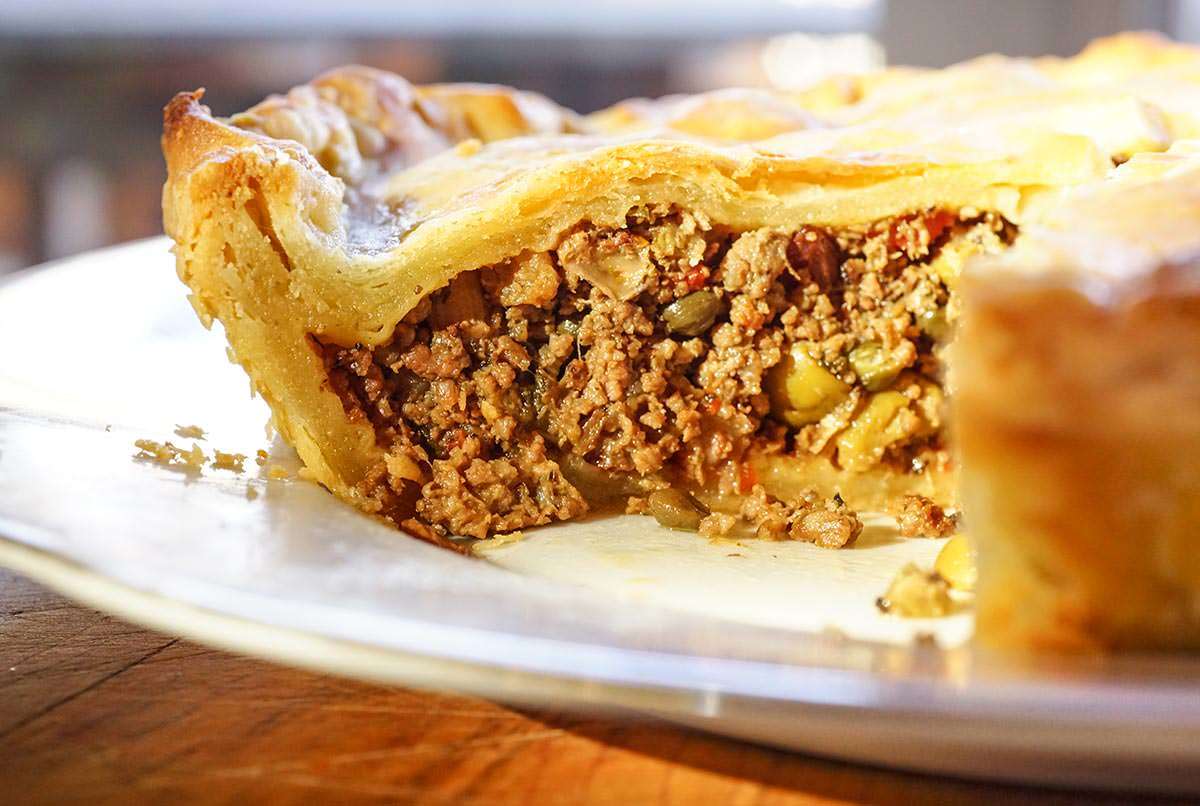 Québec Tourtière and Trinidadian patties are non-negotiable parts of the de Vienne Holiday menu. We especially love to add capers and olives to the pie filling, a part of the classic Spanish influences of Ethné's native Trinidad. And we can't resist it all wrapped in the crispy duck fat crust with traditional tourtière aromas. Our Holiday meat pir demands reached a boiling point when we decided to celebrate together.<
It was hard not to name it "Pattière," but we agreed such a name would distract from the unique flavors combined in this dish. Whatever the name, anyone who tries this pie will render the same verdict of "Ya man, it's good."
Ingredients
1 duck confit leg
---
1 onion, minced
---
1 bunch scallions, minced
---
2 lb (1 kg) ground beef
---
2 cloves garlic, chopped
---
1 Tbsp Creole Spice, ground
---
1 Tbsp Quebec Herb Blend (or other herb blend)
---
1 tomato, peeled and diced
---
1 Tbsp brown sugar
---
15 green olives, pitted and sliced
---
¼ cup roasted red bell peppers, diced
---
2 Tbsp capers
---
¼ cup raisins
---
1 glass white wine
---
Salt and pepper to taste
---
12-inch pie crusts
Method
1

Brown duck in its fat in a large pan on low heat, about 10 minutes on each side. Set aside.

2

Raise heat to medium-high. Add scallions and sauté in duck fat. Add beef, garlic and spices. Cook, stirring constantly, until meat is cooked and falls apart.

3

Add remaining ingredients, except the pie crusts. Debone duck and separate skin. Chop meat and skin into small pieces with a knife and add to the pot. Stir, cover, and cook on low heat for 30 minutes. Taste and season if needed.

4

Add everything to a large bowl and let cool.

5

Preheat oven to 375° F.

6

Place one pie crust in a 12-inch pie mold. Add meat. Brush edge of the crust with a little water or milk. Place the other pie crust on top, seal well and place a small whole at the center of the pie. Bake for 45-50 minutes, until the crust is golden brown and the meat is boiling in the center.