Trini Chinese Chicken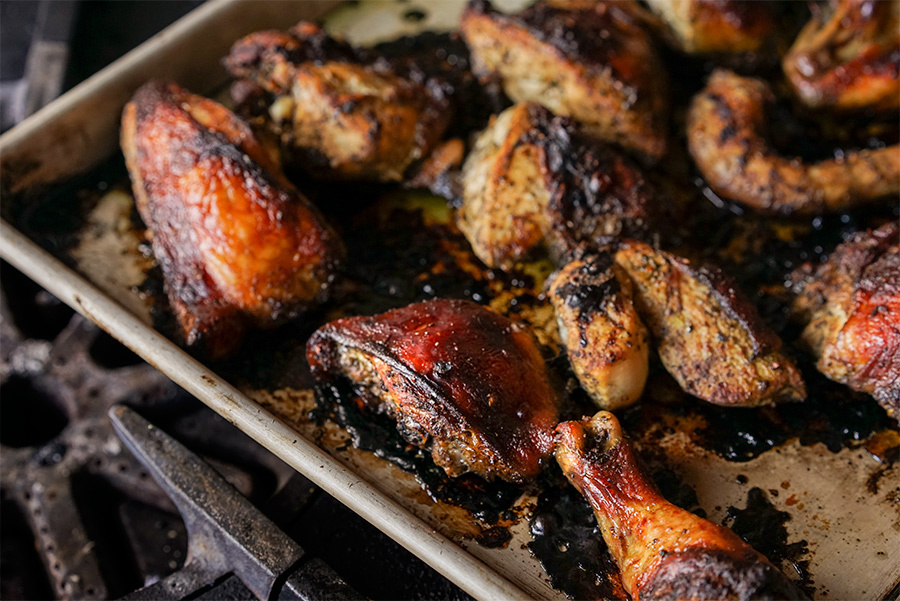 This is a classic Trinidadian dish with Chinese influences. In restaurants, the chicken is usually fried, but at home it's simmered in its marinade or just roasted. Marinate the chicken for as long as possible. Trinidadians appreciate deeply marinated meats.  
Feel free to switch the spices up. More traditional substitutes might be Jerk Spices or Creole Spice Blend, but Chinese Five Spice is delicious as well.
Ingredients
3 ½ lb chicken, in pieces
½ cup soy sauce
¼ cup oyster sauce
Juice of 2 limes
2 Tbsp toasted sesame oil
1 bunch scallions
¼ cup celery leaves or parsley
8 leaves shadow béné ou ¼ cup cilantro leaves and roots
8 cloves garlic
¾ inch fresh ginger
1 habanero, dry or fresh
1 tsp black pepper
1 ½ Tbsp Jerk Spice or Creole Spice, ground
¼ cup ketchup
Method
1

Rinse chicken pieces and place in a bowl.

2

Place remaining ingredients, except ketchup, in a food processor and blend it all together. Pour over the chicken, mix well, and let rest 1-24 hours in the fridge.

3

Remove bowl from fridge. Lightly oil a roasting pan and place the well-drained chicken pieces on it. Set remaining marinade aside. Let chicken rest on the counter 1 hour before putting it in the oven.

4

Heat oven to 350° F. Roast chicken for 1 hour 15 minutes, depending on the size of the chicken.

5

Meanwhile, pour marinade and ketchup into a small bowl. Bring to a boil and cook 1 minute. Pour over the chicken just before serving.