''Trini'' Curry Potatoes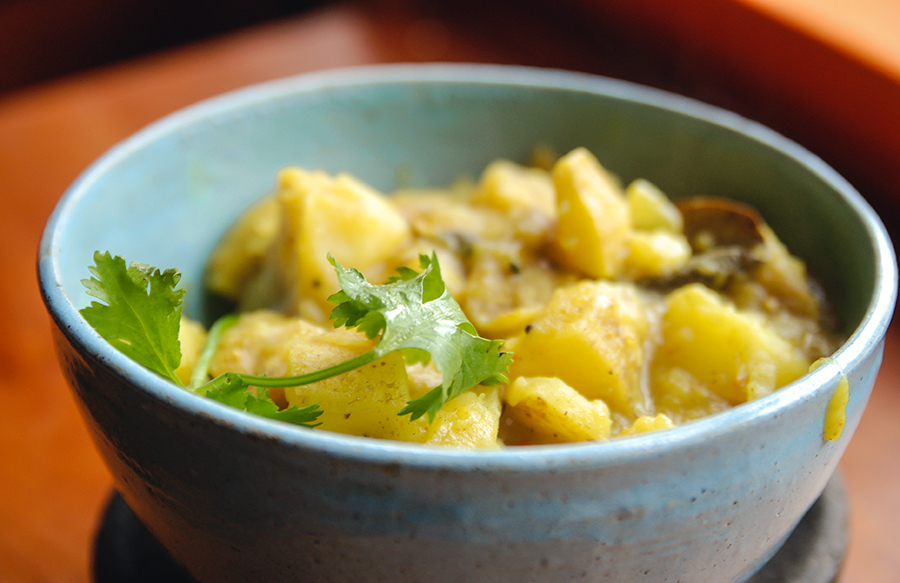 Probably the most popular curry in Trinidad. It is omnipresent in traditional Trinidadian dishes: in the rotis, the thalis and on almost every menu. For a perfectly well-balanced vegetarian dish, add cooked chickpeas or pigeon peas.
Ingredients
1 Tbsp Trinidad curry
2 Tbsp fresh chopped ginger
6 cloves garlic, chopped
6 Tbsp olive oil
3 onions, chopped
Pepper to taste
1 tsp panch phoran or cumin
1 kg potatoes, diced
Salt to taste
1 bay leaf (West-Indian if possible)
Method
1

With a mortar and pestle, grind the curry. Add the ginger and the garlic and grind to a paste.

2

On medium heat, heat the oil in a pan. Add the curry paste and the pepper. Cook until aromatic (aprox. 30 seconds).

3

Add the onions, mix and cook for a few more minutes.

4

Add the remaining ingredients and barely enough water to cover.

5

Cook until the potatoes are tender and the sauce is to your satisfaction.