Trinidad Curry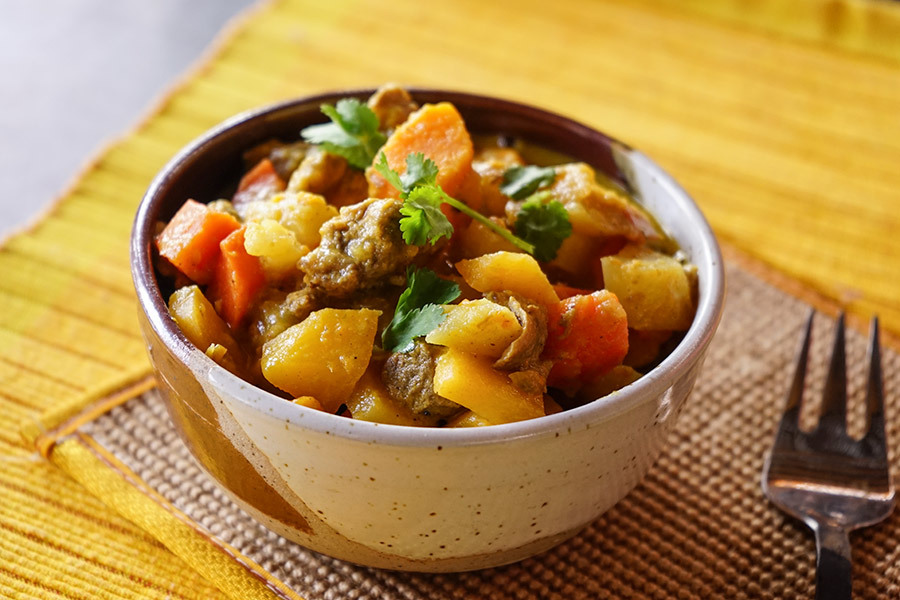 For a Trinidadian abroad, nothing says "welcome home" like this curry recipe. Serve with rice, hot sauces and your favorite chutney. This dish is even more delicious if allowed to rest a few hours on the back of the stove. Reheat gently before serving.

Marinade
3 bunches green onion
10 cloves garlic
1 inch fresh ginger
Juice of 3 Limes
Salt, to taste
¼ cup Trinidadian Curry, ground
Curry
5 lbs. Meat, trimmed and cubed (beef, pork, chicken, goat, duck)
¼ cup Vegetable or Coprah Oil
3 large Tomatoes, chopped
4 cups Coconut Milk or Water
6 cups Root Vegetables, chopped (potato, taro, manioc)
Method
1

In a small bowl, combine the Marinade ingredients to make a paste.

2

Marinate the meat in the paste for several hours or overnight.

3

Remove meat from refrigerator 2 hours before cooking the curry.

4

In a large pan, heat oil. Cook meat for 10 minutes. Add tomatoes, coconut milk and just enough water to cover the meat. Bring to the boil, lower heat, cover and let simmer.

5

Leave to cook slowly, stirring occasionally. When meat is tender (approx. 1-2 hours, depending on the kind of meat), add vegetables. Let simmer until all ingredients are thoroughly cooked.