Sesame Trout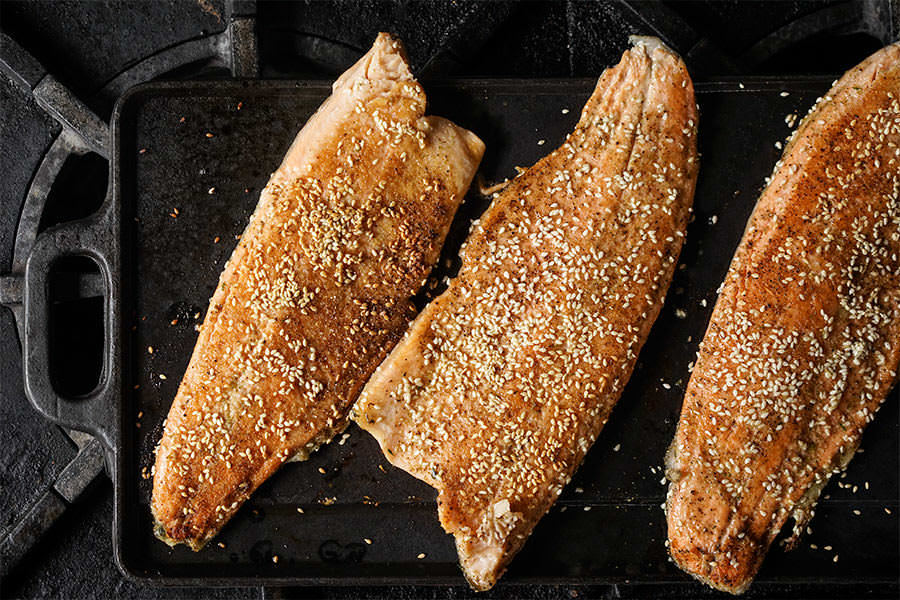 A flavorful way to pan fry trout. Add a touch of ginger for a Japanese twist.
Method
1

Gently rinse filets in cold water. Place fish, skin-side down, on a few paper towels. Place 2-3 sheets of paper towels on top. Let dry for 2 minutes.

2

Remove paper towels on top and salt the fish. Let stand 15 minutes.

3

Meanwhile, mix onion, sesame and pepper in a bowl; sprinkle on both sides of fish.

4

Heat a pan on medium. Pour in coconut oil and place fish skin-side up. Let cook for 3-4 minutes without touching it.

5

Flip fish with a long spatula. Turn off heat, but leave pan on the burner (another 2-3 minutes) to finish cooking. Grate lemon zest on the fish with a small grater. Squeeze lemon juice on top and sprinkle with a couple drops of sesame oil. Put on plates and drizzle pan juices on top.