Trout with Morels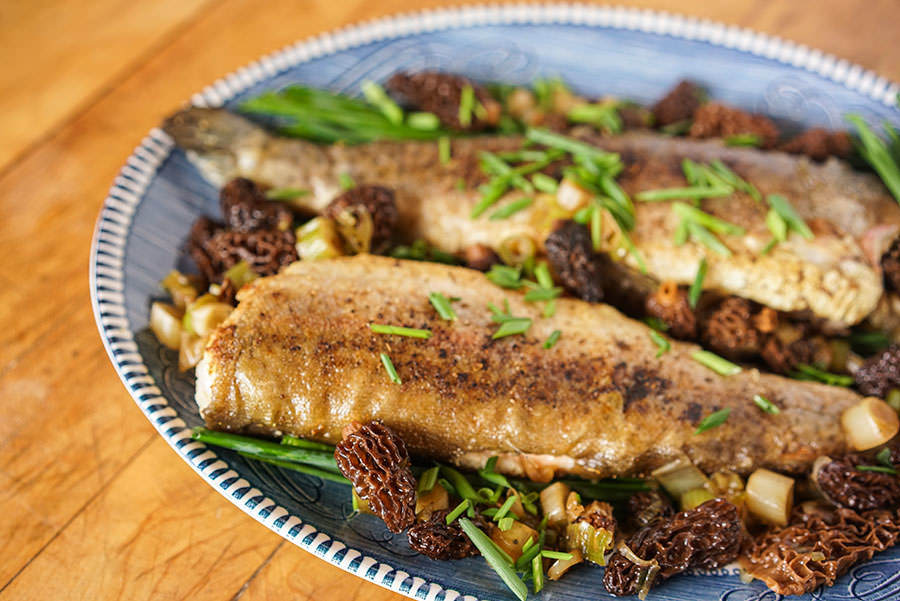 The water the mushrooms are soaked in makes the base for the sauce in this recipe. If you don't have morels, use a different mushroom or even a blend of many mushrooms.
Method
1

Wash trout thoroughly and pat dry with a paper towel.

2

Rinse morels in running water. Place in a bowl and cover with warm water.

3

Mix salt, pepper, onion and coriander together. Rub trout with the blend. Let stand 10 minutes on the counter. Meanwhile, chop the whites and greens of the scallions separately.

4

Heat a pan on medium. Add clarified butter and place trout, skin-side down, in the pan.

5

Cook until skin is golden, 4-5 minutes. Flip fish and fry until cooked through, 3-4 minutes more. If needed, check doneness with a small, sharp knife in the thickest part of the fish.

6

Place fish on a plate. Add soaked morels to the pan with scallion whites. Stir-fry for 1 minute. Decant mushroom soaking water to remove as much sand resting at the bottom as possible. Pour the port and mushroom water in the pan, and deglaze by scraping the bottom of the pan with a spoon. Cook for 1 minute. Pour over the trout.