Tuna steaks with basil and Satay Spices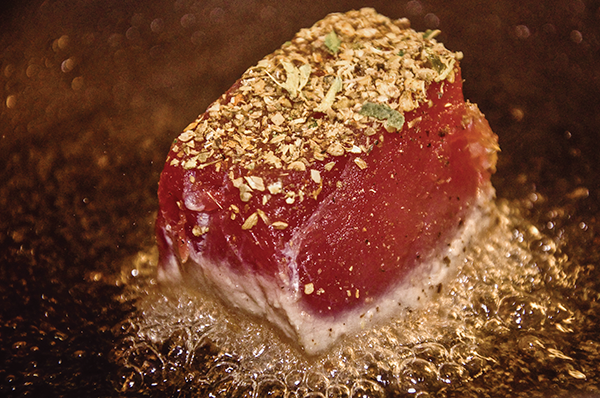 A great illustration of how to successfully use traditional spice blends with not-so-traditional ingredients and techniques.
ngredients
1 lb tuna steaks, thickly sliced
4 tsp satay spices, ground
3 Tbsp olive oil
1 small onion, chopped
2 garlic cloves, chopped
½-inch piece of fresh ginger, minced
2 lemon slices
1 tsp salt
1 tsp black pepper
4 Tbsp sherry or white wine
2 tomatoes, diced small
Fresh basil leaves
Method
1

Season the tuna with the Satay Spices.

2

Heat a frying pan and sear the tuna steaks in oil (approx. 90 seconds per side). Set aside on a plate.

3

Reduce heat and sauté the onion, garlic, ginger, lemon slices, salt and pepper (3–4 minutes).

4

Pour in the sherry, then add the tomatoes; continue to simmer for another 3 minutes.

5

Tear basil leaves into pieces and add to mixture. Return tuna and any juices to pan and reheat for 1 minute.

6

Remove the lemon slices and serve.