Tuna Tartare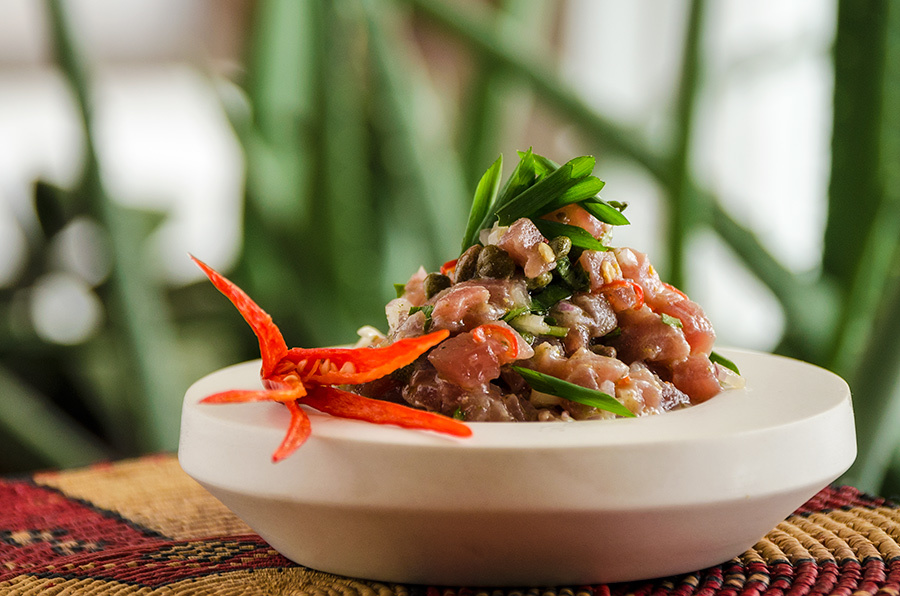 This tartar can be made using other salt water, firm-fleshed, fatty fish such as salmon, mackerel or king fish. UItimately, the fish should be very fresh. Making the seasoning is an exercise in attaining the balance of the six tastes. If necessary, add whichever ingredient you feel will achieve the taste profile desired.

Ingredients
1 lb fresh tuna filet
3 Tbsp fruity olive oil
Basil, cilantro or dill (your choice)
Seasoning
2 tsp Vegetable Spice Blend, ground
1 shallot, finely chopped
2 tsp fish sauce
4 tsp lime or lemon juice
4 Tbsp capers, rinsed
1 Tbsp sugar
2-3 hot Thaï chilies, finely chopped
salt if needed
Method
1

Rinse fish under running water. Dry well using a paper towel. Dice fish in

¼-inch pieces. Put in a covered bowl and refrigerate.

2

Place all seasoning ingredients in another bowl and mix well. Taste and make adjustments if necessary. Set aside.

3

Before serving, pour seasoning over the fish; add olive oil and chopped herbs. Mix delicately using two forks. Serve immediately.