Tunisian rice and tuna salad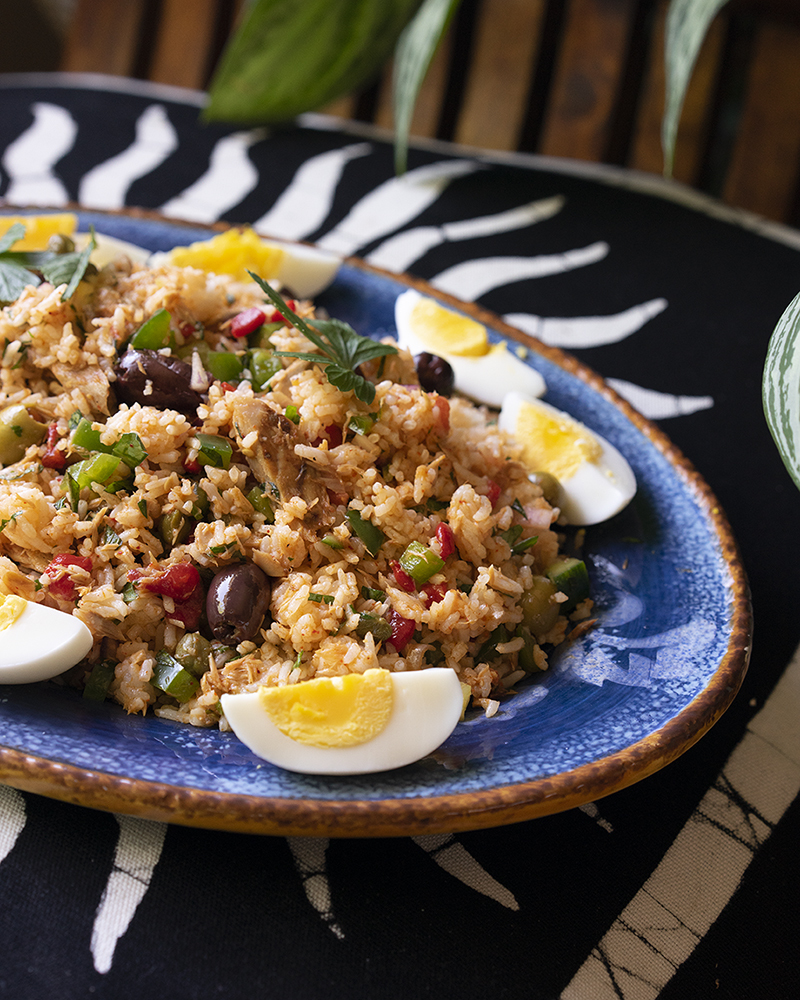 The success of this recipe depends on using rice that is warm so that it absorbs the juices of the salad, which in addition, will prevent it from becoming oily. Ideally, the rice should be cooked one hour in advance, prior to assembling the salad. This is an excellent addition to a picnic menu or a BBQ blowout!
Ingredients
2 cans of tuna, in olive oil
½ cup green peppers, diced
½ cup red peppers, diced
½ cup tomatoes, diced
½ cup cucumbers, diced
½ cup red onions, diced
¼ cup capers, drained
¼ cup black olives
¼ cup green olives
¼ cup parsley, chopped
¼ cup fresh mint, chopped OR 2 Tbsp dried mint
2 Tbsp Fragrant Harissa spice blend, ground
3 garlic cloves, grated
4 Tbsp fresh lemon juice
4 Tbsp caper juice
1 tsp salt
Approx. 6 Tbsp olive oil to add to tuna oil
4 cups cooked, warm rice (1 ¼ cup uncooked rice)
3 hard-boiled eggs
Method
1

Open and drain the cans of tuna. Set aside the oil.

2

Place the tuna in a large bowl.

3

Add the diced vegetables, capers and olives, along with the parsley and mint.

4

Pour the ground Fragrant Harissa spice blend into a jar with the garlic, lemon juice, caper juice and salt. Close the jar and shake well. Let rest for 5 minutes. Add the tuna oil and the 6 Tbsp additional oil for about ¾ cup oil in all. Shake vigorously once again.

5

Pour the vinaigrette on the assembled ingredients and mix well until evenly coated.

6

Add rice and mix delicately using two forks to evenly blend the vinaigrette and separating the grains.

7

Let rest for minimum 15 minutes before serving. Mix once more and garnish with wedges of hard-boiled eggs.