Turkey Chilaquiles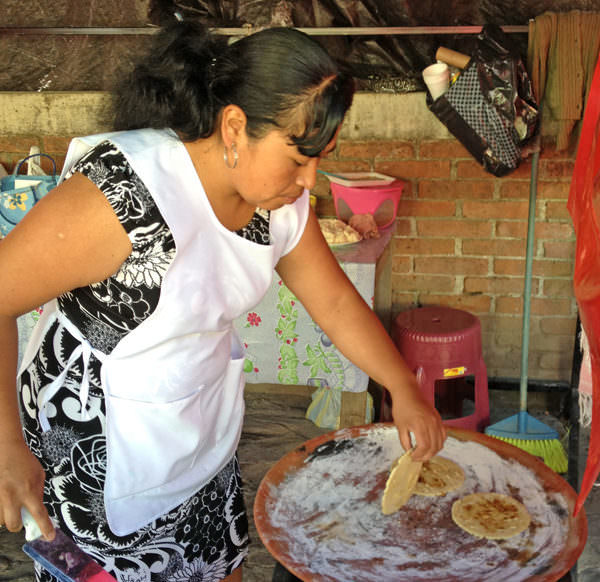 Often referred to as Mexican lasagne, Chilaquiles combines crispy tortillas, succulent turkey and a healthy dose of simplicity. What's not to love?
Turkey Stock
Chile Salsa
Chilaquiles
1 bag (400 gr.) un- salted, natural corn tortilla chips
4 cups cooked turkey
2 cups Chile salsa
½ cu) 15% cream
3 cups grated cheese of your choice (Chihuahua, Monterey Jack, mild cheddar)
1 avocado, sliced
1 tomato, diced
¼ cup onion, chopped
½ cup sour cream, or crème fraîche
6 Tbsp cilantro, finely chopped
Method: Turkey stock
1

Pick the onion with the cloves and put it into a large pot with the remaining ingredients. Cover with approximately 6 litres (24 cups) cold water. Bring to a boil and skim if necessary. Simmer slowly uncovered for about 1 hour or until the skin of the turkey separates easily using a fork. Strain and de-bone, keep the meat for the Chilaquiles.
Method: Chile Salsa
1

Place a small pan on medium heat and dry roast the chillies for about 1 minute. Remove the stem and the seeds from the chillie. Place the chilli in a small bowl and cover with the turkey stock. Soak for about 20 minutes and strain. Set aside the stock used for soaking the chillies.

2

In the meanwhile, using the same pan on medium heat, dry roast the garlic, the thyme and the cinnamon.

3

Add the the strained chillies, the garlic, the thyme and the cinnamon, with the reserved chilli stock to a blender and grind to a smooth puree. Strain and set aside.
Method: Chilaquiles
1

Place the grill in the center of the oven. Preheat the oven to 190 °C (375 °F).

2

Using a square baking dish 30 cm (12 inches) spread half the chips and place the shredded turkey, cover with the salsa and the 15% cream.

3

Add the remaining chips, salsa and 15% cream. Cover with cheese and cook in the oven for 15 minutes.

4

Garnish with avocadoes, tomatoes, onions, sour cream and coriander. Serve immediately.