Tximitxurri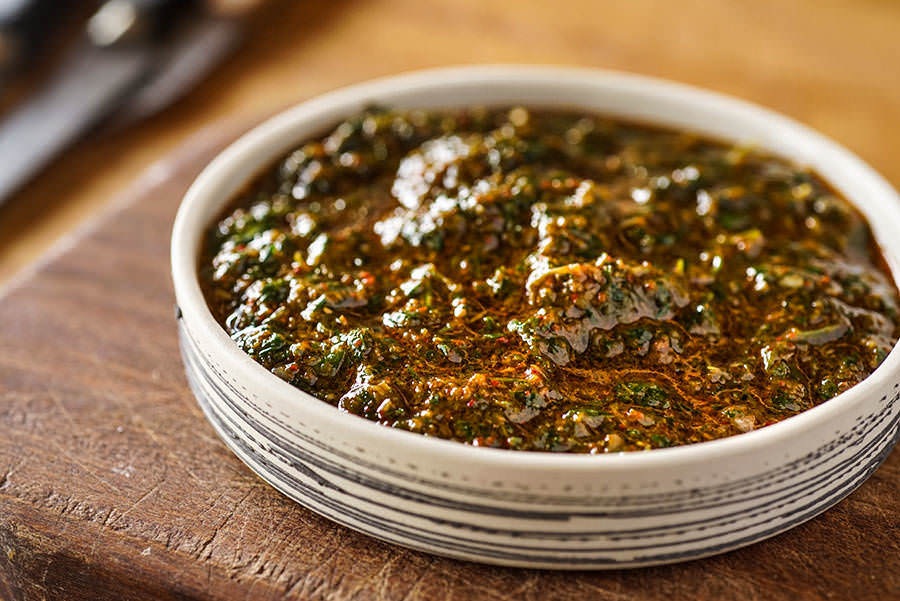 Tximitxurri (pronounced cheemeechooree) is the Basque ancestor of Argentinian Chimichurri. We adore adding a little hint of brandy, but you can leave it out if you want. Tximitxurri lasts for 2 days in the fridge, and it's better to take it out 30 minutes before serving to let it warm to room temperature before serving.
Ingredients
4 cloves garlic
2 tsp salt
1 tsp Reshampatti pepper
2 Tbsp Gorria pepper
Black peppercorns to taste
½ cup parsley, chopped
1 Tbsp cider vinegar
4 Tbsp lemon juice
2 Tbsp brandy (opt.)
½ cup olive oil
Method
1

Place garlic, salt, pepper, and peppercorns into a mortar and mash to a paste.

2

Add chopped parsley and mash to a paste.

3

Incorporate vinegar, lemon juice and brandy. Pour oil in a slow, continuous stream while mashing into a rough, chunky sauce.